2018 MCCL Challenge At the New Madison Library!
January 21st, 7:48AM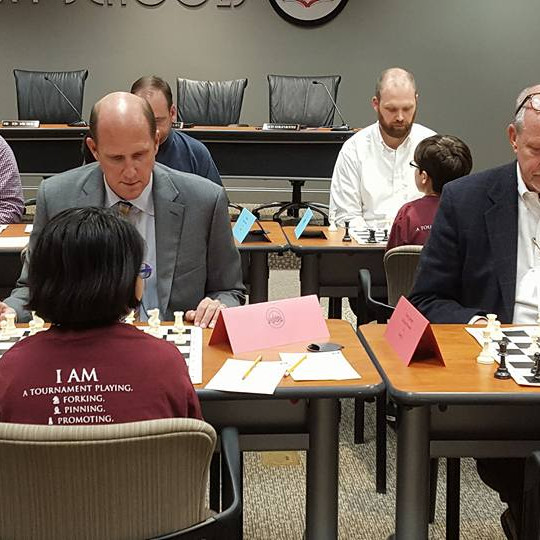 The 2018 MCCL Challenge is scheduled to occur on Monday, February 5th at 6 p.m. at the new Madison Library on Plaza Drive. Community and business leaders are challenged to a chess match by our students age 10 or younger. If you attended last year's challenge, you saw one of our students take on WHNT News 19 Chief Investigative reporter David Kumbroch while blindfolded. The match was broadcast live via Facebook Live before the challenge with civic and business leaders began. Our blindfolded student, Michael Guthrie, was a Bob Jones High School freshman at the time. Michael won the match in 32 moves.
This year we are trying something new. We are also planning a simultaneous chess match between Fide Master Bradley Denton and numerous kids of all ages and levels of experience.
Start Time for MCCL Challenge and Simul: 6:00 p.m. on Monday February 5, 2018.
Location: Madison Library, 142 Plaza Blvd, Madison
How Can Kids Register to Participate?
Join Madison Friends of the Library at the Family ($30) Level or higher.
Forward your donation receipt from the Madison Friends of the Library to Ranae Bartlett at mccl.director@gmail.com along with your child's

Name

,

Grade Level

,

Age

, and

School

of Attendance. If your child is ten years old or younger, they will be considered for the MCCL Challenge and will be notified in late January or early February that they have been selected. Priority will be given to MCCL members in order to participate in the challenge portion with business and community leaders.
The first 20 kids to join Madison Friends of the Library or make a comparable donation to Madison Library will have a spot in the event either in the Simul or in the MCCL Challenge. You will be notified on the MCCL event page if all space in either event is full. No refunds can be given for a donation, but the MCCL event page will be updated when the event is full for kids.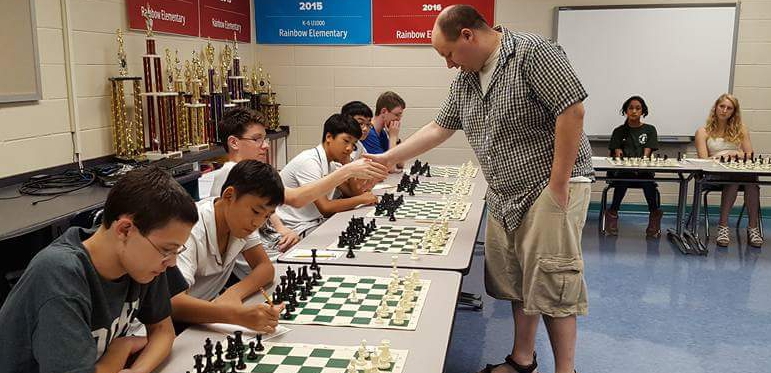 FM Bradley Denton pictured above holding a simultaneous chess match with middle and high school students.

How Do Adults Register to Participate?
Email mccl.director@gmail.com if you would like to participate. Please provide your name, place of employment, address to send acknowledgment. If an adult loses to one of our kids, the Madison City Chess League would appreciate any donation made payable to MCCL.