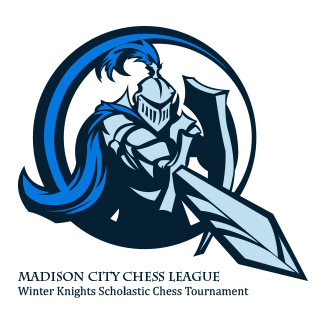 Winter Knights Chess Tournament
Starts: Jan 8, 2016 @ 5:45 PM
Ends: Jan 9, 2016
Interested in competing? Check out the requirements and what's involved.
Where: Columbia Elementary School, 667 Balch Road, Madison, AL 35758
When:January 8th-9th, 2016, Players Meeting: 5:50pm Friday
Round Times:Friday - 6:00pm, Saturday - 10:00–12:30–2:45-5:00, Time Control - G/60;d5
Memberships, Fees, And Deadlines
USCF membership is required for all sections, and must be obtained before registering for this tournament. USCF membership can be obtained online at uschess.org or by mail using this form.
Entry Fee: $20 for rated sections.
Entry Deadline: Online entry by Wednesday, January 6, 2016. Mail-in entries postmarked by Saturday, January 2nd, 2016.
NO ON-SITE REGISTRATION.
Awards and Trophies
Trophies for 1st, 2nd, and 3rd; Medals for 4th, 5th, 6th and Top Female in each section.
Special Awards
In order to qualify for special awards listed below, the player must be a member in good standing of a chess club/team and reside in Madison.
Each section of the 2016 Winter Knights Scholastic Chess Tournament is a qualifier for the 2016 Madison City Scholastic Chess Championship. The top two players from each grade bracket (K-3, 4-6, 7-8, 9-12) will be invited to participate in the City Championship. For more information about the City Championship, click here.
Registration
The Winter Knights tournament has four sections, which mirror the sections that will be competing in the upcoming MCCL City Chess Championship. The sections, based strictly on grade level in order to qualify for the City Chess Championship, are:
Students can "play up" in a higher section upon request. The Winter Knights is an open tournament for all students in good standing in their school (home school, public school or private school) chess clubs. Only residents of Madison can qualify, however, for the MCCL City Chess Championship.