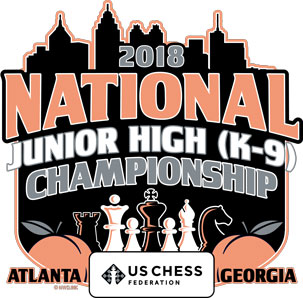 National Jr High Chess Championship - Atlanta
Starts: Apr 6, 2018
Ends: Apr 8, 2018
Interested in competing? Check out the requirements and what's involved.
2018 National Junior High (K-9) Championship
April 6-8, 2018 · Atlanta, Georgia

(Bughouse & Blitz April 5)
Hyatt Regency Atlanta · 265 Peachtree St NE, Atlanta GA 30303
(404) 577-1234 or (888) 421-1442 (Mention US Chess) · US Chess Rate $129 · Book Now!
Support US Chess and Ensure Future Events by staying at the host hotel!
7 round swiss in 6 sections:
K-9 Championship
K-9 Under 1250
K-9 Unrated
K-8 Championship
K-8 Under 1000
K-8 Under 750

March rating supplement will be used. Players must disclose other Over-the-Board (OTB) ratings with entry. Players with other OTB ratings may be moved to a different section at the discretion of US Chess.
Team score is total of top four finishers from each school per section.
A team must have at least two players but no maximum number of players. The top four scores in any section will count for the team score. All players on a team must come from the same school.
National Championship
First place individual and team in the K-9 Championship and the K-8 Championship sections, including ties, will be recognized as National Champions.
Time Control: Game/120 d5
Each player has 120 minutes to complete the game with a 5 second grace period each move.
Entry Fee: $50 post marked or online by March 12, $70 by March 26, $85 by April 4, $90 on site.
$5.00 extra for all phone registrations.
$20 change fee for roster or section changes after April 4 or any on site changes.
Players registering after 11 a.m. Friday will not be paired for round 1, will receive a 1/2 bye for round 1, and will begin play with round 2.
One 1/2 point bye available any round except 7 if requested with entry or before 11 a.m. Friday. ZERO point byes may be requested for any round and should be requested at least 2 hours before the start of the round.
Schedule:
Opening ceremony Friday 12:30 p.m.
Rounds: Friday 1 p.m. - 7 p.m., Saturday 9 a.m. - 2 p.m. - 7 p.m., Sunday 9 a.m. - 2 p.m.
Awards Ceremony: Sunday 7 p.m. (approximately)
Trophies:
Individual
Team
K-9 Championship
Top 15 [plus ties for 15th place]
Top 10
K-9 Under 1250
Top 20 [plus ties for 20th place]
Top 15
K-9 Unrated
Top 10 [plus ties for 10th place]
Top 10
K-8 Championship
Top 25 [plus ties for 25th place]
Top 15
K-8 Under 1000
Top 20 [plus ties for 20th place]
Top 15
K-8 Under 750
Top 35 [plus ties for 20th place]
Top 25
Top five teams in each section receive 5 plaques per place (4 players and the coach).

Class trophies to the top three in the following classes:
K-9 Championship
1400-1599; 1200-1399; 1000-1199; Under 1000; Unrated.
K-8 Championship
1500-1599; 1400-1499; 1300-1399; 1200-1299; 1100-1199;
1000-1099; Under 1000; Unrated.
More information available here.