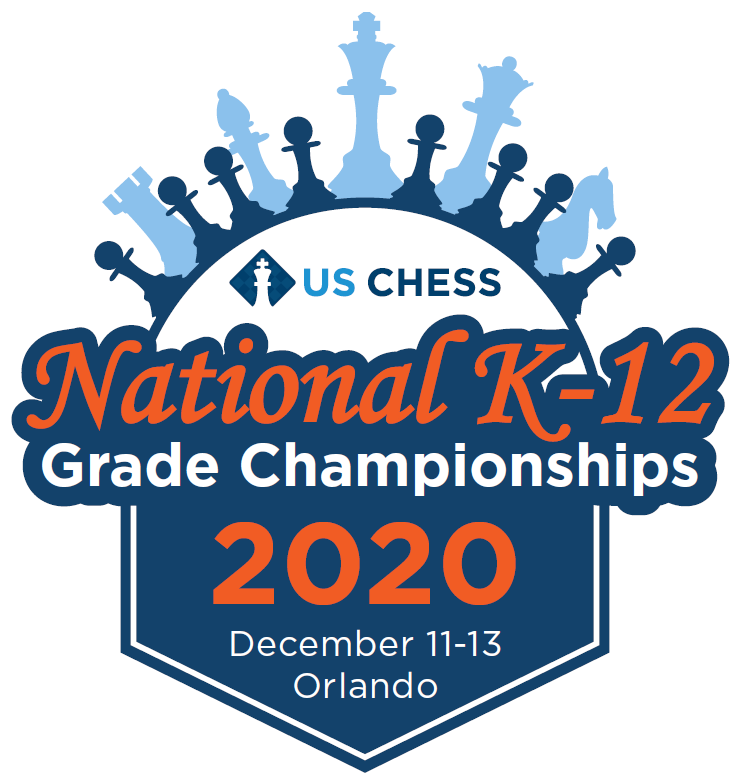 National K-12 Showdown - Dec. 12-13
Starts: Dec 12, 2020
Ends: Dec 13, 2020
Interested in competing? Check out the requirements and what's involved.

Tournament details
13 Sections: Play only in your Grade.
December rating supplement will be used.
1/2 point bye available any round. Request must be received by close of registration.
Registration will CLOSE at 8pm Eastern time, Friday, December 11. No registrations will be accepted after that time. There will be no exceptions.
A team must have at least two players, although no maximum of players. The top four scores in any section will count for the team score. All players on a team must come from the same school.
This is NOT a National Championship event. First place individual and team winners do NOT earn National Champion titles.
US Chess membership current through December 2020 is required.
Time Control: Game/25+5 (each player has 25 minutes to complete the game with a 5 second increment per move, starting at move 1)
SPECIAL ONLINE PROVISIONS
You must read and agree to follow the Chess.com Policies and Terms for the 2020 K-12 Showdown. Entering the tournament is considered acceptance of the Policies and Terms!
You will need a valid username on either ChessKid.com (grades K-5) or Chess.com (grades 6-12). DO THIS BEFORE YOU ATTEMPT TO REGISTER FOR THE TOURNAMENT!
You will need to set up a member site login on the US Chess website. This article explains how to do that.
You will then need to update your ChessKid.com or Chess.com username on your US Chess user dashboard, so that your identity can be validated by the chess server. This article explains how to do that.
If you have not done the above four steps, stop and do them before you try to register!
You agree to use your "normal" (most widely used, longtime) ChessKid or Chess.com account for the main event and (if held) any associated warm-up events. It is against the Terms of Service for both Chess.com and ChessKid for you to have a second account on either server. If players are found to be competing by using anything other than their normal account, they will be disqualified.
For more information click here
Entry Fee: $45 if registered or postmarked by Nov. 23, $60 if registered or postmarked by Nov. 30, $75 if registered by Dec. 11.
Online registration strongly preferred.
Do not mail anything after Nov. 30.
$20.00/entry extra for all phone registrations.
$30 change fee for roster or section changes after Dec. 4.
Schedule for Grades K-5:
Grades K-5 will be played on ChessKid.com
Rounds 1-4 start times: Sat. 12/13 11am - 1pm - 3pm - 5pm
Rounds 5-7 start times: Sun. 12/13 11am - 1pm - 3pm
Schedule for Grades 6-12:
Grades 6-12 will be played on Chess.com
Rounds 1-4 start times: Sat. 12/13 11:30am - 1:30pm - 3:30pm - 5:30pm
Rounds 5-7 start times: Sun. 12/13 11:30am - 1:30pm - 3:30pm
Tentative results will be posted online shortly after the last round concludes.

Please note, the results will not be final until the post-event fair play review has concluded. This may take a week or more, due to the number of games.