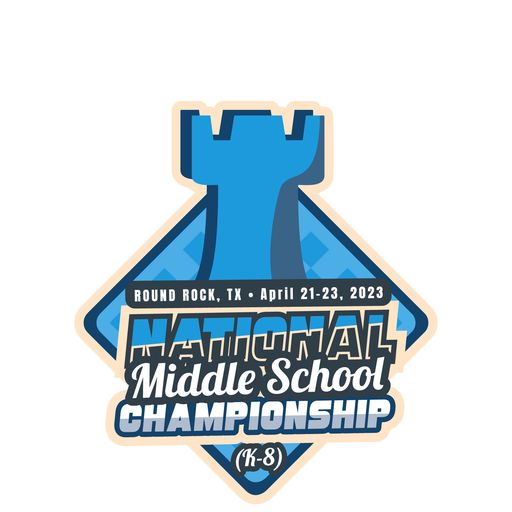 2023 National Middle School - 4/21-4/23
Starts: Apr 21, 2023
Ends: Apr 23, 2023
Interested in competing? Check out the requirements and what's involved.
2023 National Middle School (K-8) Championship, April 21-23
Kalahari Resorts & Conventions · 3001 Kalahari Drive, Round Rock TX 78665
512-501-3493 (Mention US Chess) · US Chess Rate $179 · Book Now!
Support US Chess and Ensure Future Events by staying at the host hotel!

The Kalahari has large, family-friendly rooms with 100% king-size beds!
Registration and Tournament Information
7 Sections:
April rating supplement will be used.
Click here for scholastic event policies and procedures.

Up to two 1/2 point byes available any round if requested before round 1.
A half-point bye in round 1 must be requested at the time of registration, or on-site before 11 AM Friday.
A half-point bye request for rounds 2-7 not requested in advance must be requested two hours before the scheduled start of round 2.
Players registering after 11 AM Friday will not be paired for round 1, will receive a half-point bye, and will begin play with round 2.
Players requesting a section change late (after 11 AM Friday) will not be paired for round 1, will receive a half-point bye, and will begin play with round 2.
A Team must have at least two players, although no maximum of players. The top three scores in any section will count for the team score. All players on a team must come from the same school.
First place individual and team in K-8 Championship section, including ties, will be recognized as National Champions.
US Chess membership current through April 2023 is required.
Time Control: NOTE THE NEW TIME CONTROL FOR THIS EVENT! Game/90 d10 (each player has 90 minutes to complete the game with a 10 second grace period each move)
Entry Fee: $80 if registered or postmarked by Mar. 20, $100 if registered or postmarked by Apr. 3, $115 by Apr. 10, $120 thereafter or on site. Do not mail anything after Apr. 3.
$30.00 extra for all phone registrations.
$30 change fee for roster or section changes after Apr. 10 or on site changes.
A withdrawal requested by email no later than Apr. 20, or in person at Chess Control no later than 11 a.m. local time April 21, will be refunded 100% of the entry fee.
Schedule:
Opening ceremony Fri. 12:45 pm.
Rounds start at: Fri. 1 pm-6 pm, Sat. 9 am-1:30 pm-6 pm, Sun. 9 am-1:30 pm.
Awards Ceremony: Sunday 6:00 pm (approximately)