2024 Kindergarten Tournament (2/3) $25.00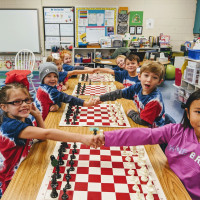 This product requires a participant to be selected and you currently have only 0 participant(s) set up. Please visit your Profile to add a participant to your account.
Madison City Kindergarten chess tournament at Rainbow Elementary on Saturday, February 3, 2024. Registration limited to the first 20 to register online. Player meeting at 8:45 am. First round at 9:00 am. Time control is G/15. Five rounds if time allows. No memberships required. This is a non-rated tournament.
---
This product requires a participant to be selected. If you need to add another participant not yet tied to your account, please visit Your Profile