2017 Queen's Quest Scholastic Chess Tournament - 11/18 $25.00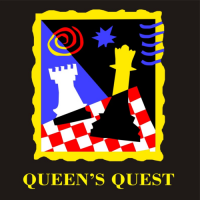 This product requires a participant to be selected and you currently have only 0 participant(s) set up. Please visit your Profile to add a participant to your account.
Where: Mill Creek Elementary, 847 Mill Road ,Madison, AL 35758
When: Saturday, November 18, 2017.
Sections: Elementary Rated Sections Only: K-3 U300; K-3 Championship; 4th-6th U500; K-6 Championship
Round Times: 9:30, 11:00, 12:30, 2:15, 3:30 Time Control: Game 30/d5
Mandatory Players meeting: 9:15 a.m.
Memberships, Fees, And Deadlines
5 round Swiss, USCF rated. USCF membership is required for all sections, and must be obtained before registering for this tournament. USCF membership can be obtained online at uschess.org or by mail using this form.
Entry Fee: $25 per individual (because this is an individual and team event, the registration fee has increased this year for all individuals)
Deadline: Online entry by Wednesday November 15th, 2017.
No Onsite Registration. No refunds after you have been paired.
---
This product requires a participant to be selected. If you need to add another participant not yet tied to your account, please visit Your Profile