2016 Alabama State Chess Championship Returns to Huntsville
September 9th, 1:29PM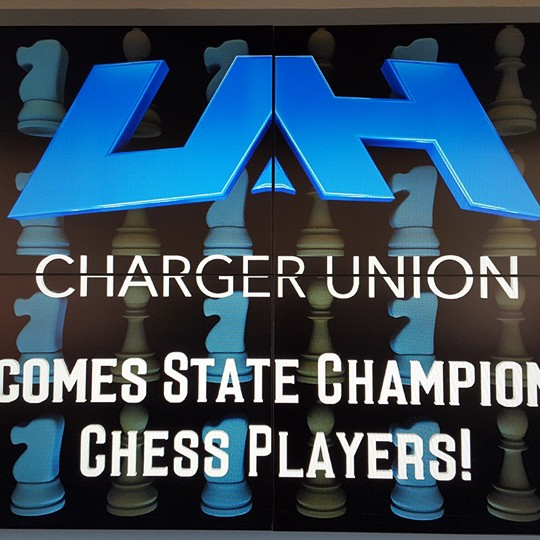 The University of Alabama in Huntsville was the location for the 2016 Alabama State Chess Championship, and Charger Union provided the finest venue competitors could ask for. Chief Tournament Director Bill Nash was assisted by Caesar Lawrence and FM Bradley Denton. Guy Calinsky and Damian Bruni worked in the TD room, entering results and posting pairings and standings in real time on the Madison City Chess League (MCCL) webpage.
State Representative Phil Williams, who graduated from UAH, sponsored the State Chess Championship. "It was gratifying to be able to bring the event back to Huntsville after so many years," said MCCL Executive Director Ranae Bartlett. After three days and six rounds where competitors played games that sometimes lasted in excess of four hours, a champion emerged--Bill Melvin from Huntsville. Bill held this title fifteen years ago in 2001.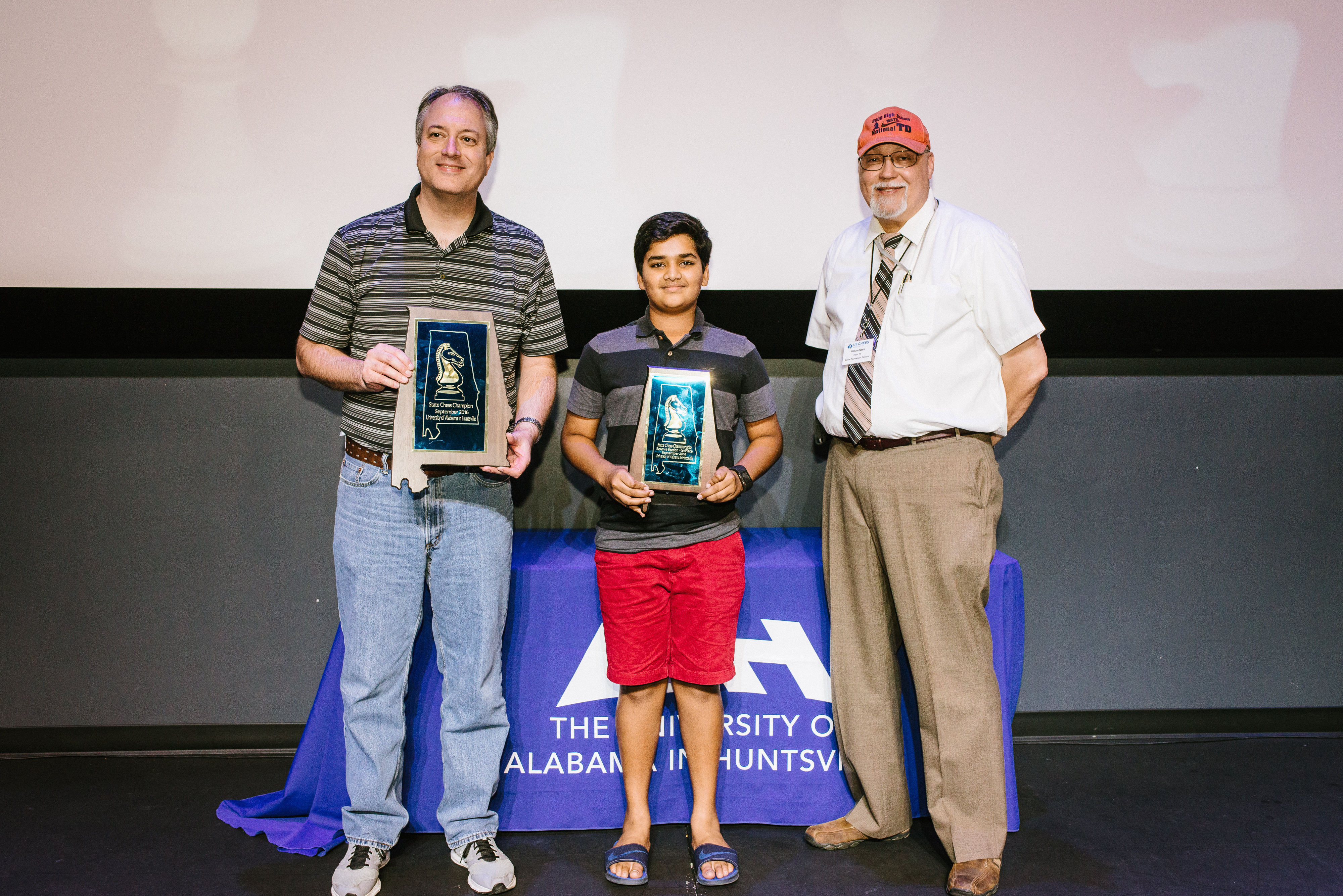 Pictured L to R: Bill Melvin - State Champion, Krishin Yerabolu - Reserve Champion, and Chief TD Bill Nash.

Fifty-eight competitors fought for the title. Complete results can be found here.
Premiere Section Results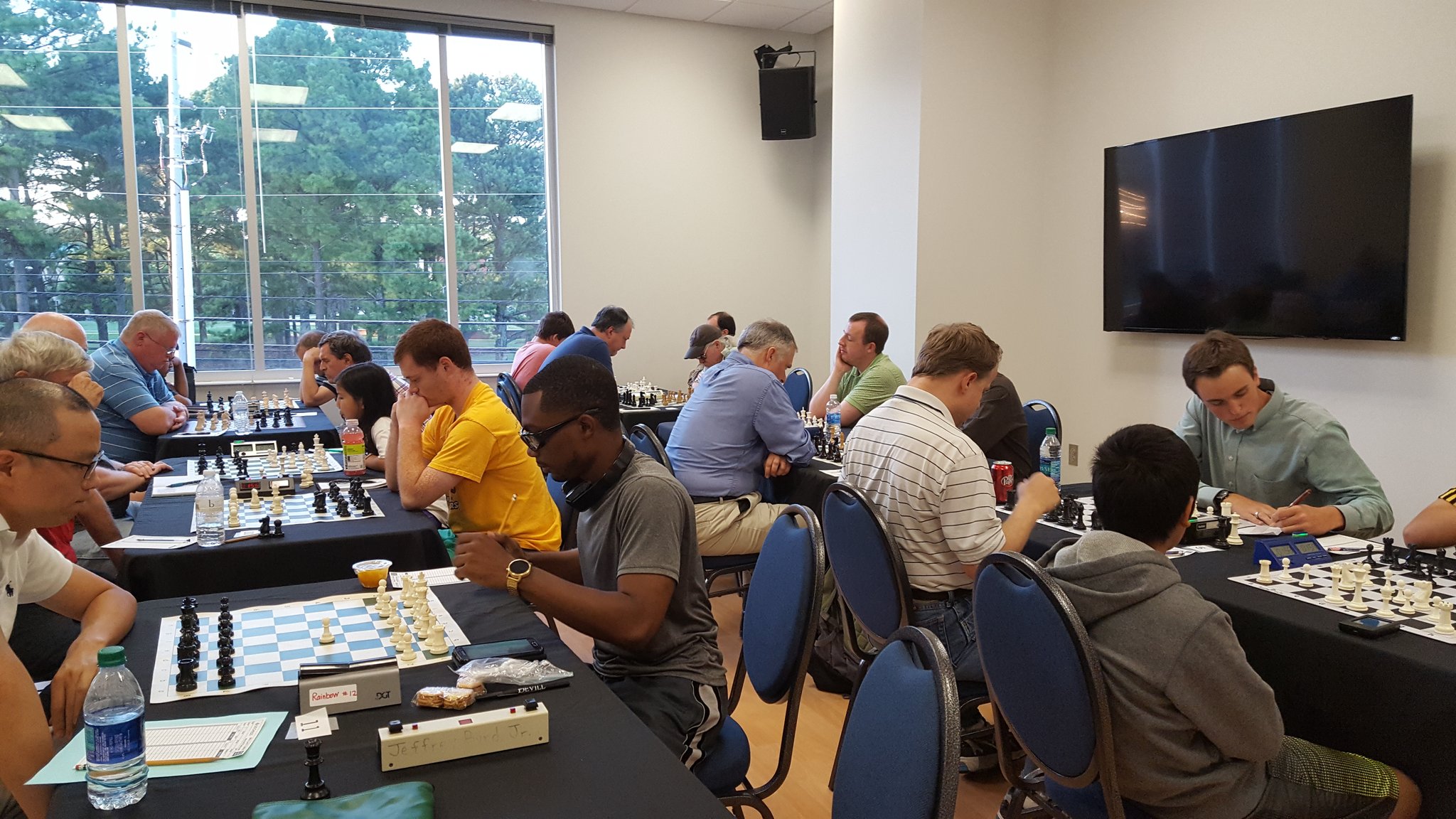 Premiere playing room on Friday evening, September 2nd
Here is a list of prize winners in the Premiere section:
1. Bill Melvin - 1st place and Champion ($500) - 5.5 pts
2. Matthew Puckett - 2nd place ($325) - 4.5 pts
3. Joshua McClellan - 3rd ($106.25) - 4.0 pts
4. Arden Marken - 4th ($106.25) - 4.0 pts
5. Charles Meidinger - 5th ($106.25) - 4.0 pts
6. Jonathan Rasberry - 6th ($106.25) - 4.0 pts
Class A Prize shared among Rochelle Wu, Miles Melvin, and Roger Johnson ($125 each) - 3.5 pts
Class B Prize - Michael Guthrie ($225) - 3.5 pts
Class B 2nd place shared among Om Badhe, David Hayes, Luis Morenilla, Mohak Agarwalla, and Varun Gadi ($30 each) - 2.5 pts
Reserve Section Results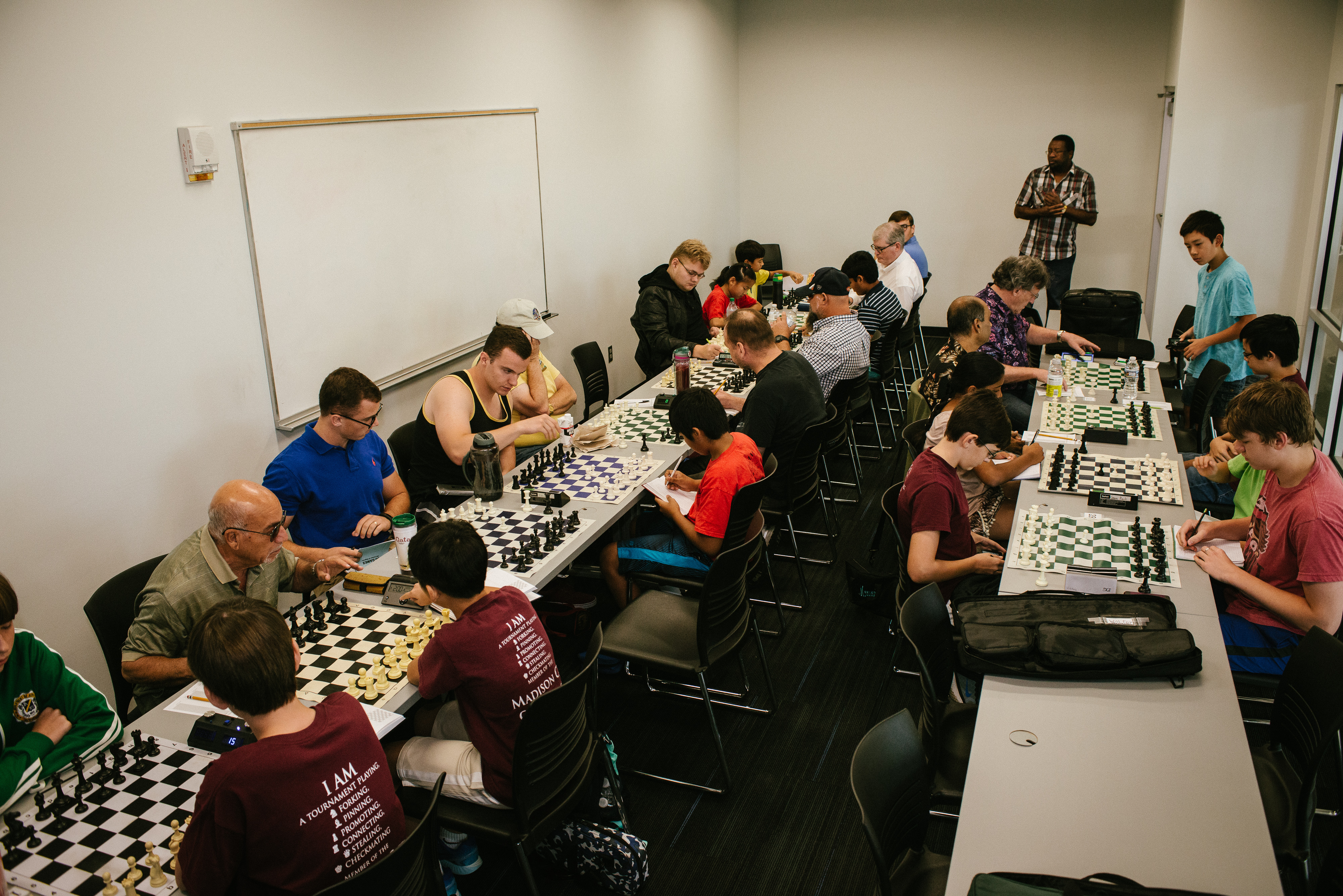 Here is a list of the Prize Winners in the Reserve (Under 1600) section:
1. Krishin Yerabolu - 1st place ($350) - 5 pts
2. Joshua Lin - 2nd place ($112.50) - 4.5 pts
3. Jack Lyons - 3rd place ($112.50) - 4.5 pts
4. Joel Friedman - 4th place ($112.50) - 4..5 pts
5. Hudson Markin - 5th place ($112.50) - 4.5 pts
Class D Prize winner: Patrick Dowd ($150) - 4.0 pts
Class D 2nd place shared between Victor Lundy and Will Fox ($50 each) - 3.5 pts
Under 1200 Prize shared among: Caden Garrett, Ed Mullin, and Kristian Jordan ($50 each) - 3.0 pts
Special Recognition
Scott Varagona won the 2016 prize for winning the most points in the Open Section of the State Championship series of tournaments. ACF Treasurer Bradley Denton presented Scott with a hand made chessboard and pieces from House of Staunton.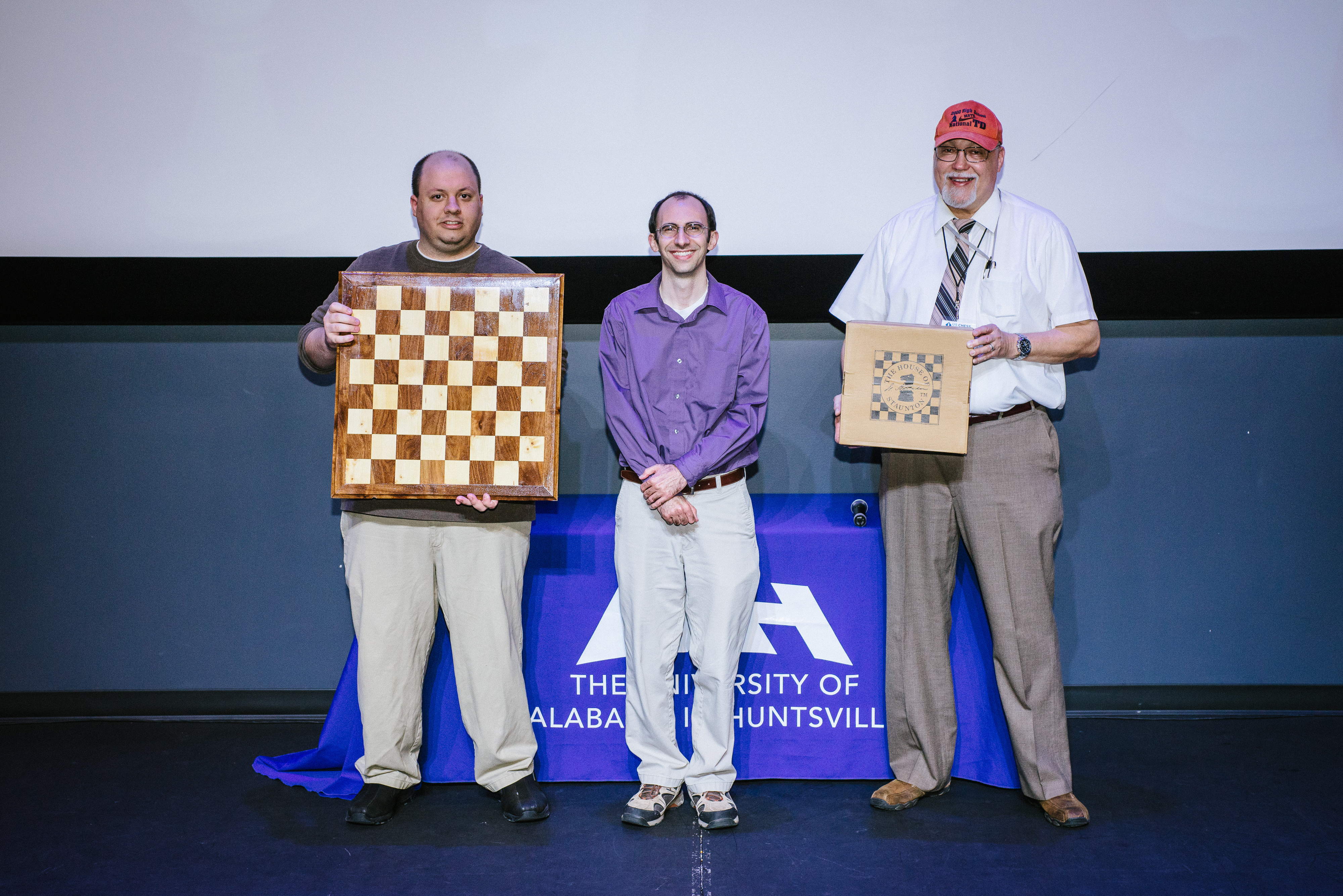 We would like to thank UAH Charger Union and their staff for making the State Chess Championship a wonderful experience for all competitors. Many parents as well as competitors remarked at how impressed they were with the facility. We would also like to thank our photographer Scott Wilhelm who took breathtaking photographs of the events all weekend.