Register Now for Summer Knights on August 27th at Rainbow Elementary
August 14th, 8:53PM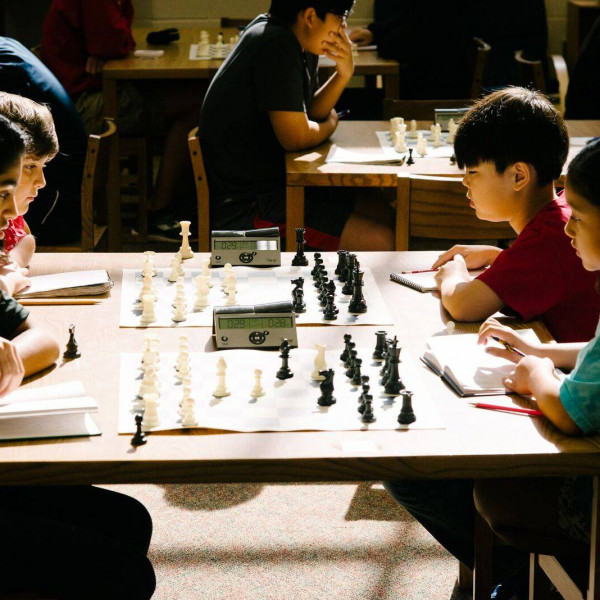 2022 Summer Knights
Summer Knights is a great first tournament of the school year because no US Chess Tournament report will be issued. So no pressure, but lots of awards for both rated and non-rated sections. Summer Knights is also a great teaching tournament for non-rated players who have never tried a chess tournament before.
Host Rainbow Elementary chess team will offer concessions and pizza for lunch. Plan to stay all day and bring lawn chairs for your comfort. Leave the cafeteria tables where players and families hang out in between rounds to the kids and their coaches to review games. Although approximate round times are posted, the Non-Rated section games usually finish quicker and the next round will start as soon as the previous round has ended and been scored.
Which Section should I register for?
If your child has a US Chess rating (usually a provisional rating is established after playing 5 games) then he or she should register for the Rated section based on ratings range (Under 500, Under 1000 or Open (over 1000)). You can look up your child's rating here. If your child has never played in a rated tournament before, then register for the Non-Rated section by grade level (K-3, K-6 or K-12) - most select the youngest grade level they are eligible for, but some can choose to play up. Register here.
Tournament Information:


Sponsored by CB&S Bank
It's the first chess tournament of the school year!
Although we are offering both a Rated section (for those with a USCF rating) and a Non-Rated section for beginning players, we will NOT issue a tournament report to the USCF. So, this is an opportunity for everyone to relax, not worry about ratings, but play in their first chess tournament early in the school year.


When: Saturday, August 27, 2022
Where: Rainbow Elementary, 50 Nance Road, Madison, AL 35758
Mandatory Players Meeting: 9:00 a.m.
Round times (approximate): 9:15 - 10:30 - 12:30 - 1:45 - 3:00 (non-rated sections are likely to start sooner after the first round)
Game time: Rated sections - G/30/d5; Non-Rated sections - G/20 Pairing: 5SS
Rated Sections and Awards: K-12 (Open); K-12 Under 1000; K-12 Under 500; Trophies for 1st-6th, Medals from 7th-10th and Top Female
Non-Rated Sections and Awards: K-12; K-6; K-3; Trophy for 1st, Medals based on enrollment and for Top Female
USCF membership required for the Rated sections only.
Registration Fee: $20 for MCCL members and $25 for non-MCCL members who register by August 24. (lower MCCL member price will appear when you add the tournament to your cart)
NOTE: If you have not joined MCCL or renewed your MCCL membership for 2022, do that in a separate order first. Then register for Summer Knights in a separate order.
Deadline to register online: Wednesday, August 24th.
Register Online: www.madisonchess.com


Chess Terms You Need to Know
Time Control - every chess tournament provides a time limit for each side to complete moves. For most local scholastic chess tournaments, the time control will be G30/d5 (which means each side has 30 minutes with a 5 second delay to complete his or her moves per game). That means the entire round could last just over an hour if both players use the allotted time. At national tournaments, the time control can be 90 or 120 minutes per side with a five second delay. Read the tournament flyer carefully to know the number of rounds and the time control.
Swiss System - A system for deciding who plays against whom in chess tournaments that are too big for everybody to play everybody (a tournament where everyone plays everyone is a Round Robin.). The Swiss system is usually used in big, open tournaments. The system works by having players with the same number of points play against each other, with the top half (by rating) in each score group playing the bottom half. Most local scholastic chess tournaments will state something like 5SS in the tournament flyer, which means 5 rounds using the Swiss System for pairings.

Bye - A bye is something a player requests when he/she is unable to play the game that round. Byes can be requested when one registers for a tournament and will usually result in 1/2 point for the first round a bye is requested. A tournament director can allow subsequent byes but usually for 0 points. If an odd number of players are in a section who are available to play in a particular round, and one is required by the tournament director to take a bye, that bye will usually result in 1 point.

Scholastic - for students usually in grades K-12. A Scholastic chess tournament is for students only--no adults.