Second Annual Madison City Chess Championship
March 28th, 10:56AM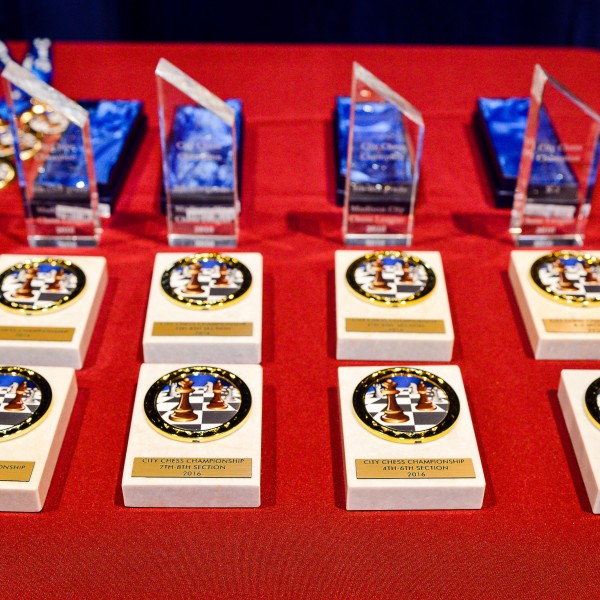 Second Annual Madison City Scholastic Chess Championship
April 21-22 2017
Game 90 / D5
The Madison City Chess League is pleased to announce that the City of Madison will hold its second City Chess Championship in four qualifying scholastic sections in the spring of 2017. A cash prize of $100 will be awarded to each champion in each section. The City Chess Championship is once again sponsored by Systems Products and Solutions, Inc. and will occur on April 21 and 22, 2017.
Invitations to participate in the Madison City Chess Championship will be extended to those students residing in Madison or attending Madison City Schools who place in the top two in Qualifying Tournaments listed below in Primary (K-3), Elementary (4-6), Junior High (7-8) and High School (9-12) grade-level sections. In order to qualify, students must also abide by the Madison City Chess League Code of Conduct and be considered in good standing.
Qualifying Tournaments
*Once a student places in the top two in their section, they are placed on the Invitational Tournament list that will be maintained on the MCCL webpage. In subsequent tournaments, if the same student for example places 1st, the top two finishing students who live in Madison who have not previously qualified will be added to the Invitational Tournament list, and so on. The goal is to have at least 10 students competing in each section of the City Chess Championship: K-3, 4-6, 7-8, 9-12.
*MCCL will have the discretion to create wild card slots for the Invitational portion of the City Chess Championship, particularly to fill a slot if an invited student cannot compete. MCCL reserves the right to withdraw any invitation to participate in the City Chess Championship if a student no longer remains in good standing or otherwise violates the MCCL Code of Conduct.



2016 City Chess Championship Qualifiers for the Invitational Section



*There will be an Open section (K-3; 4-6; 7-12) of the City Chess Championship where any student in good standing who did not qualify for the Invitational section can still compete and play games with longer time controls to help prepare for the National chess tournament season.

This section is an open section with no residency limitation.



*The winner of the Invitational in each age group/section will be declared the winner of the City Chess Championship for that age group/section.
Tournament Details
Date: April 21-22, 2017

Deadline to Register for Open section: Wednesday April 19th

Location: James Clemens High School

Round Times: Fri (4/21): 6:00 p.m.; Sat (4/22): 9:00; 12:30; 4:00 Game 90/d5

Player Meeting: Fri (4/21) at 5:50 p.m.

Awards Ceremony: Invitational Section: Sat. (4/22) at 7:00 p.m. (approximate); everyone who qualified for the Invitational Section will receive an award.


Open Section: as soon as all players complete the last round that begins at 4:00 p.m.; Medals for 1st-5th place and top female in each section.




2017 Madison City Scholastic Chess Championship Qualifiers
The following are students residing in Madison, Alabama or who attend Madison City Schools who have qualified to compete in the Invitational Section of the City Chess Championship.
High School (9th-12th Grade) Section
Chris Baker
Douglas Zhang
Michael Guthrie
Lawrence Zhang
William Spanier
Mark Skrabanek
Hugh Mitchell
Erin Kueck
Grace Billmann
Tyler Wessling
Junior High (7th-8th grade) Section
Om Badhe
Will Fox
Josh Lin
Will Cox
Jenson Wilhelm
*Will Bao
Aubteen Pour-Biazar
Maanasi Limaye
Hayden Billmann
Ben Kosan

(*Will Bao had a scheduling conflict and will be replaced by the next highest finisher at the Bishop's Bash, Edward Calinsky.)
Elementary (4th-6th Grade) Section
Geon Park
Constance Wang
Victor Lundy
Ethan Xu
Shreya Sunil
Zachary Calinsky
Ethan Kueck
Rishi Sethuraj
Luke Chynoweth
Aasim Musani

Primary (K-3rd Grade) Section
Karsten Wallace
Caroline Wang
Xavier Bruni
Landon Drummond
Anaya Naphade
Artem Starenki
*Ethan Van
Isabelle Park
*Arnav Maskey
Sahithi Mynampally
(*Arnav Maskey had a scheduling conflict and will be replaced by the next highest finisher at the Bishop's Bash - Aaditya Saxena)
(*Ethan Van had to withdraw at the last minute and will be replaced by the next highest finisher at the Bishop's Bash - Marek Fries)