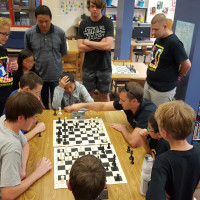 Back to School Bughouse - For Members Only
Starts: Jul 29, 2019 @ 6:00 PM
Our most popular event for MCCL members is back! Register now for the Back to School Bughouse for MCCL Members Only. This event will occur during our Monday Night MCCL meeting on Monday July 29th.
Where: Madison Library
When: Monday July 29 at 6:00 -7:45 p.m.
We will be playing in the Library and will allow spectators to watch! You must be an MCCL member to play. Join today.
You and your partner must both be MCCL members to participate. Type in your partners name in the box when you register as a team.
What is Bughouse? Here is a ChessKid article that explains.