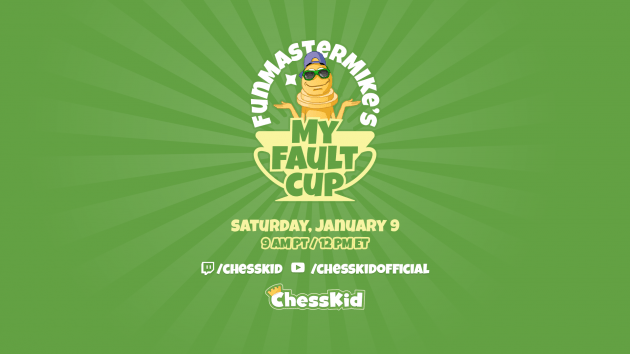 FunMaster Mike's MyFault Cup
Starts: Jan 9, 2021 @ 11:00 AM
Interested in competing? Check out the requirements and what's involved.
WHO: K-5 students who registered for the National K-12 Showdown in December
WHEN: Saturday January 9, 2021 at 11 a.m. CST
WHAT: The online tournament will be 6 rounds with a time control of 10+2. There will be six sections, one for each grade K-5. The top five kids in each section (after tiebreaks) will win an invitation to a mini-camp held by FunMasterMike, where they will have one of their games reviewed!

COST: FREE
Important Information and Registration
To play in the tournament your name must show here.
You also need to check your clubs page and make sure you have been added to the correct grade's club for the tournament. You can check your clubs here.
If either of these is not correct you should email tournaments@chesskid.com with player's name, US Chess ID, grade, and correct ChessKid username. The deadline for emailing us is 11:59pm Pacific on Monday, January 4, 2021.
If both of those are correct, then you are already "registered" and you don't have to email us or do anything! All you have to do is arrive 30 minutes before the first game (8:30am Pacific/11:30am Eastern) and click to join the tournament.
If you do not intend to play, that's fine. No need to contact ChessKid. You simply won't be "paired" since you didn't click to join the tournament.
There are no set round times; rounds will begin once all the games in a given section finish (the format is exactly like the Sunday event we ran on December 13).
The approximate total length of the tournament is about 2.5 hours.
DO NOT ARRIVE AND JOIN LATE, NOT EVEN BY A MINUTE. We cannot stress this enough.
All normal fair play rules and measures are in place as agreed to in the original event. By playing in the FunMasterMike My Fault Cup, you agree not to use outside assistance of any kind. If you are found in violation you will be removed from the tournament and for this event there will be no appeals. If you were removed from the original event for a fair play violation, you are not eligible to play in the My Fault Cup.
Read more about the event here.