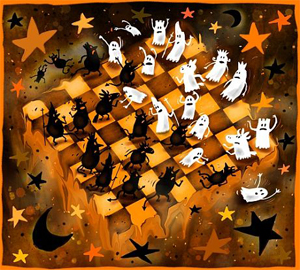 2021 Halloween Rapid Tournament
Starts: Oct 30, 2021 @ 10:00 AM
Interested in competing? Check out the requirements and what's involved.
Halloween Chess Tournament
Sponsored by Sullins Eye Care Center
Saturday October 30th at 10 a.m.
Madison City Schools Stadium
211 Celtic Drive, Madison AL 35758
Kids play chess outside on the turf field!
Halloween Costume Contest: Kids--wear your Halloween Costumes while you play
Prize Categories: best mask, scariest gloves, best chess-themed costume, and most creative costume.
TOURNAMENT DETAILS
Rated Sections: K-3; K-5; K-8; K-12 (USCF membership required for rated section only.)
Non-Rated Section: K-2; K-5
Approximate Round Times: 10:00, 11:00, 12:30, 1:30
Time Control: Game 20/d5
Registration Fee: $20 for MCCL members; $25 for non-MCCL members. Register online at www.madisonchess.com
Awards: Rated sections 1st-10th; Non-Rated sections 1st-5th
Rain Location: Horizon Elementary, 7855 Madison Pike, Madison, AL 35758