2018 State Chess Champions!
March 30th, 7:41AM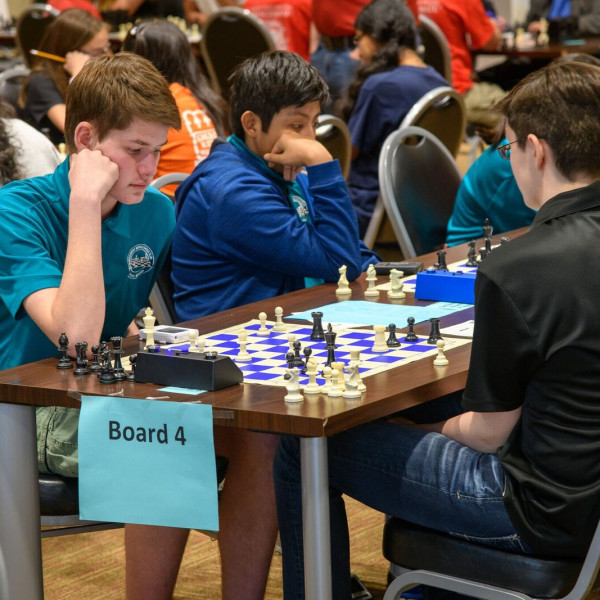 2018 STATE CHESS CHAMPIONS!
SCHOOL TEAM COMPETITION
School chess teams across the State of Alabama converged on the campus of the University of South Alabama in Mobile on Saturday March 24th to compete for the State title. For the first time, every 1st place team in the school division came from Madison! You can read more about Saturday's competition in this tournament report from MCCL Coach Jonathan Rasberry.

Open K-12 Section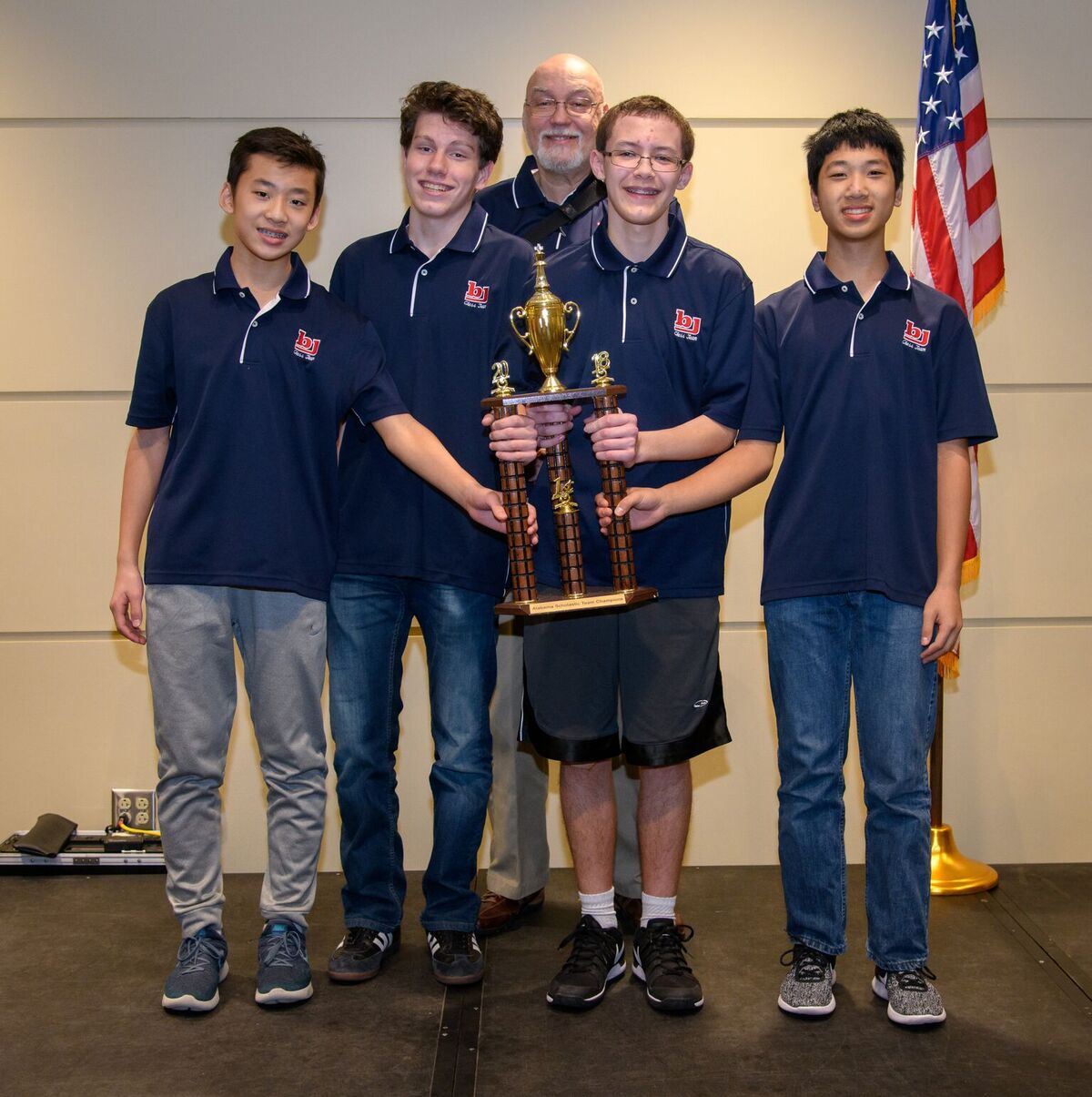 The Bob Jones Blue Team of sophomore Michael Guthrie and freshmen Will Bao, Hayden Billmann and Josh Lin made history by winning every board in all four rounds to end the day with a perfect score. This team completely dominated the section and was the highest rated team in both Club and School divisions. The last (and only other) time Bob Jones High School won the high school championship was in 2009. Bob Jones was unique in having a second team compete in the state championship. The Bob Jones Red team was comprised of Douglas Zhang, Hugh Mitchell, Julian Olvera and Madison Gore. Most middle and high schools are fortunate to be able to send one team to compete at the State Championship, but the Bob Jones chess program continues to grow and will see some very strong additions from Discovery Middle School join them next year.
Jr High K-9 Section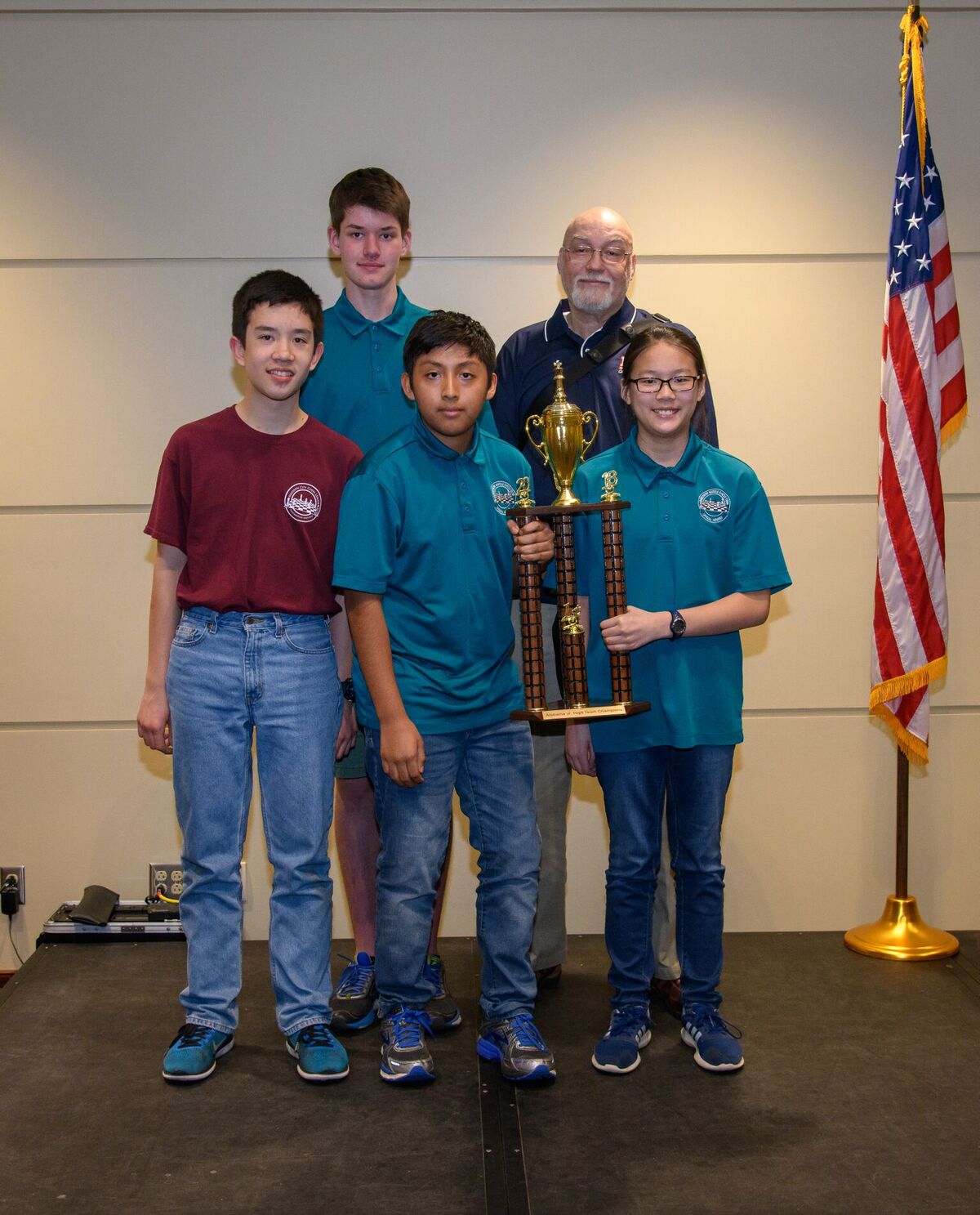 For the fourth consecutive year, a team from Discovery Middle School achieved the State team chess championship in the Junior High section. This year, it was literally a nail biter and came down to tie-breaks to achieve the title. The DMS team of Jenson Wilhelm, Victor Lundy, Constance Wang, and Edward Calinsky edged out Pizitz Middle school for the win. DMS and Pizitz tied in their head-to-head match up, but DMS won more games in other rounds to win on tie-breaks. The Liberty Middle School team of Will Fox, Ethan Xu, Shreya Sunil and Wyatt Devine threatened to break through for a team trophy, but narrowly missed and came in third place. The ACF only awards two team trophies in the Junior High team section.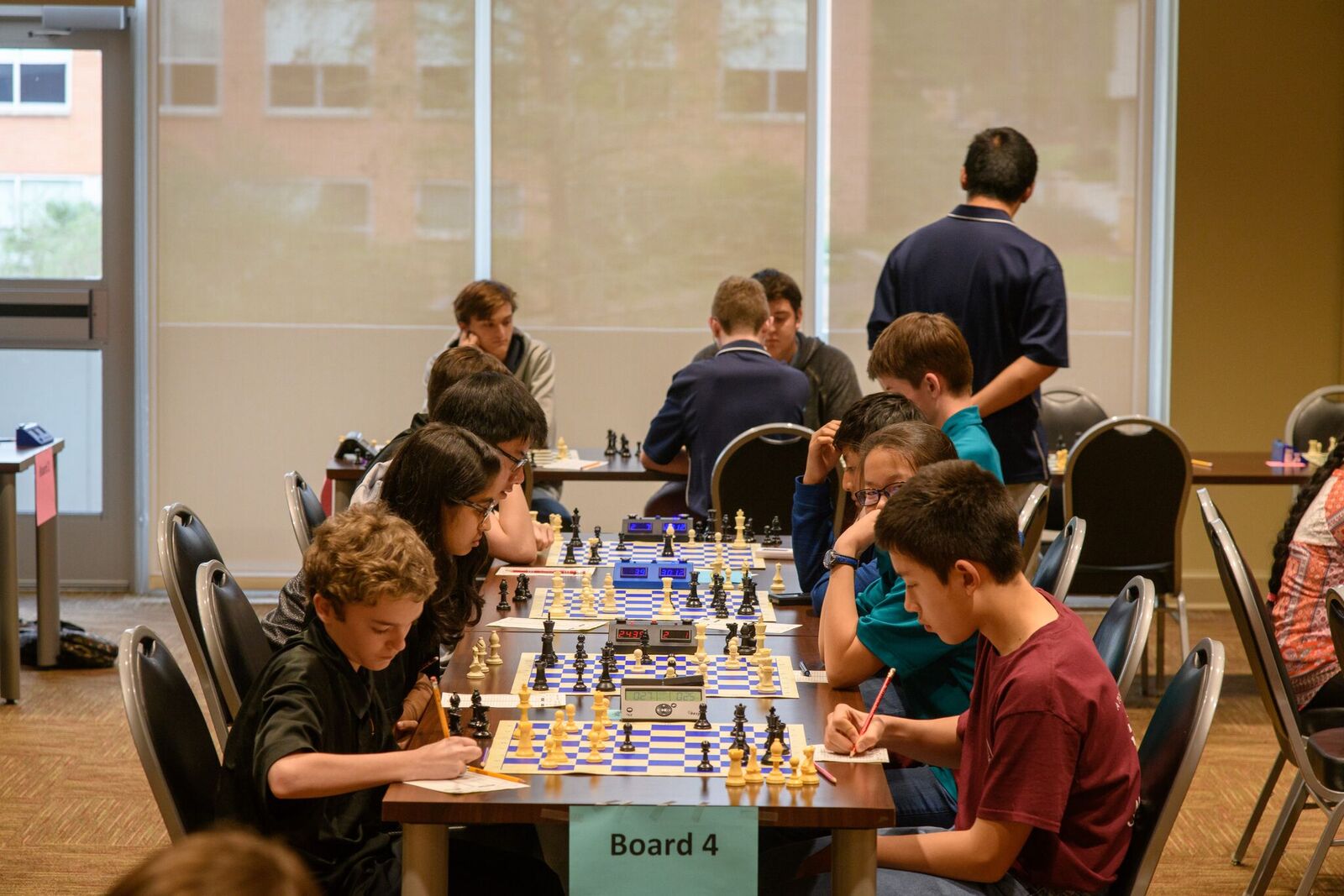 LMS vs. DMS match during the Team competition.

Elementary K-6 Section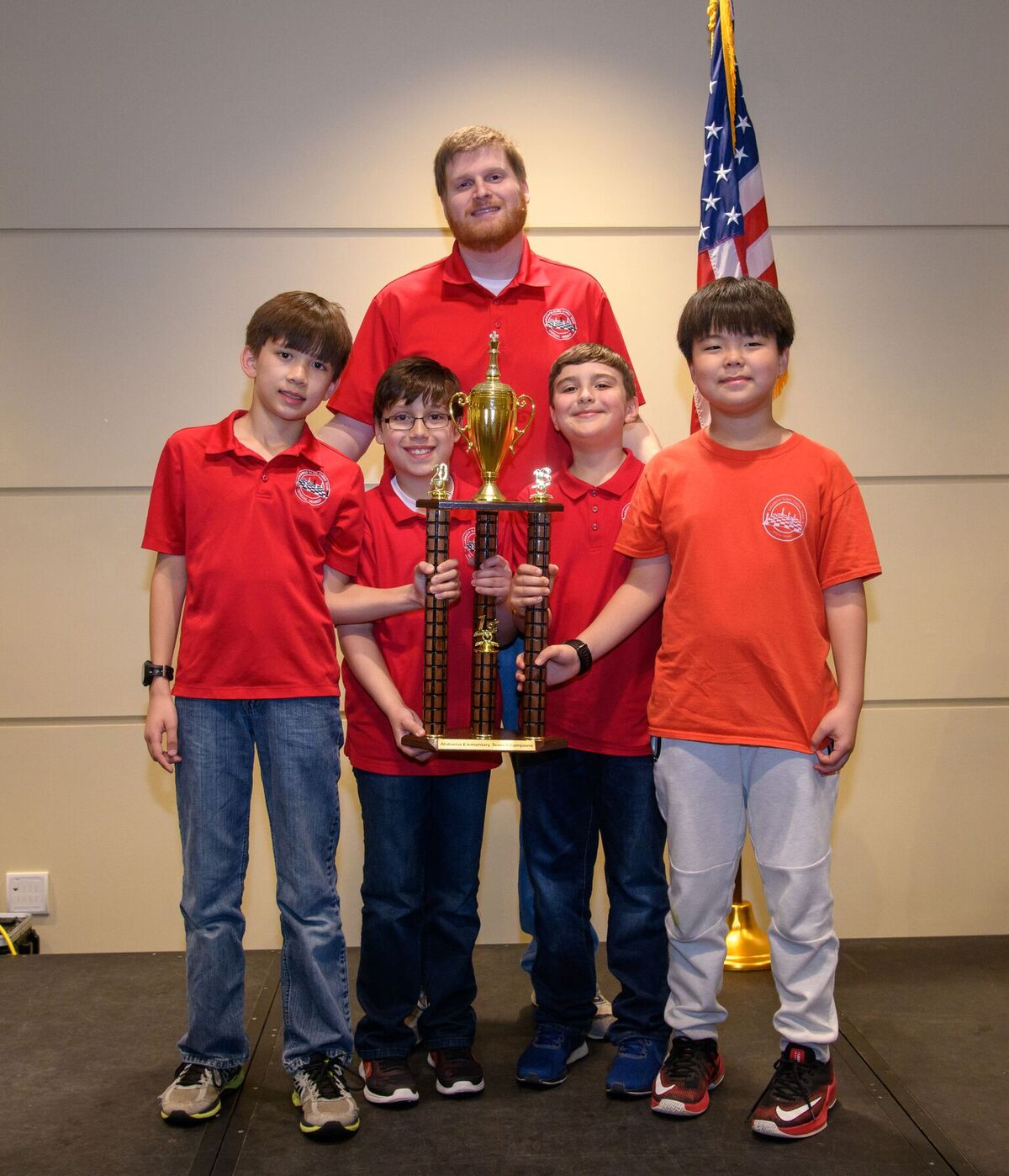 The Rainbow Red Team of Xavier Bruni, Geon Park, Karsten Wallace and Zachary Calinsky achieved four team points to win the Elementary section in dominant fashion. This was the fifth consecutive year that a team from Rainbow has won the Elementary team championship. Also competing for Rainbow in the Elementary section and just missing out on a team trophy on tie breaks was the Rainbow Blue team of Artem Starenki, Caroline Wang, Rachael Ehrman, and Owen Lang. All eight Rainbow students did a great job representing Rainbow.
Primary K-3 Section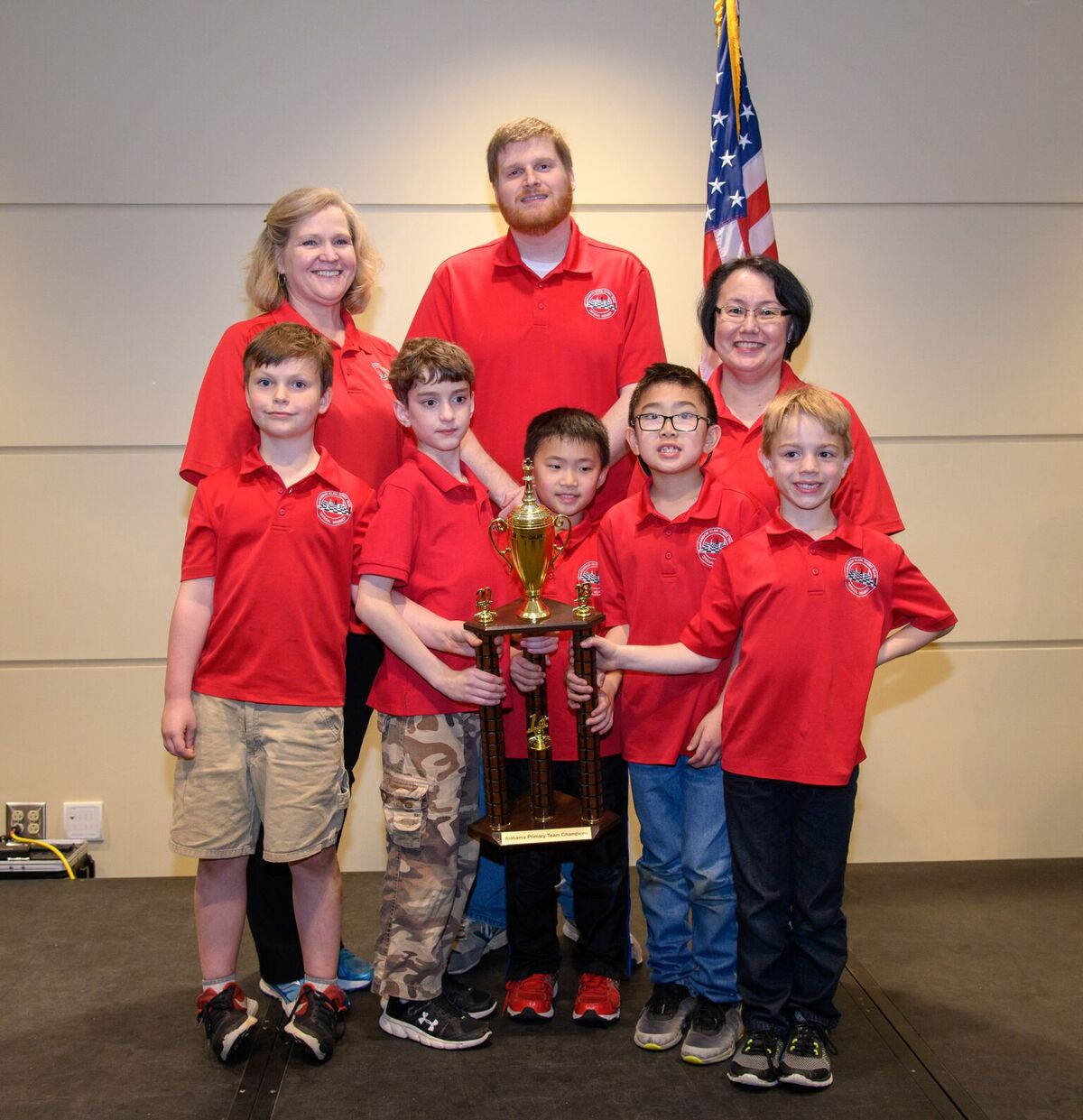 For the third consecutive year, Rainbow Elementary captured the Primary (K-3) team 1st place trophy. It was a close contest with the Rainbow team of Landon Drummond, Andrew Nguyen, Holland Lang, Cameron Edwards and Noah Hsu edging out Deer Valley Elementary by half a team point to win 1st place.
MCCL Club Teams Win 2nd Place!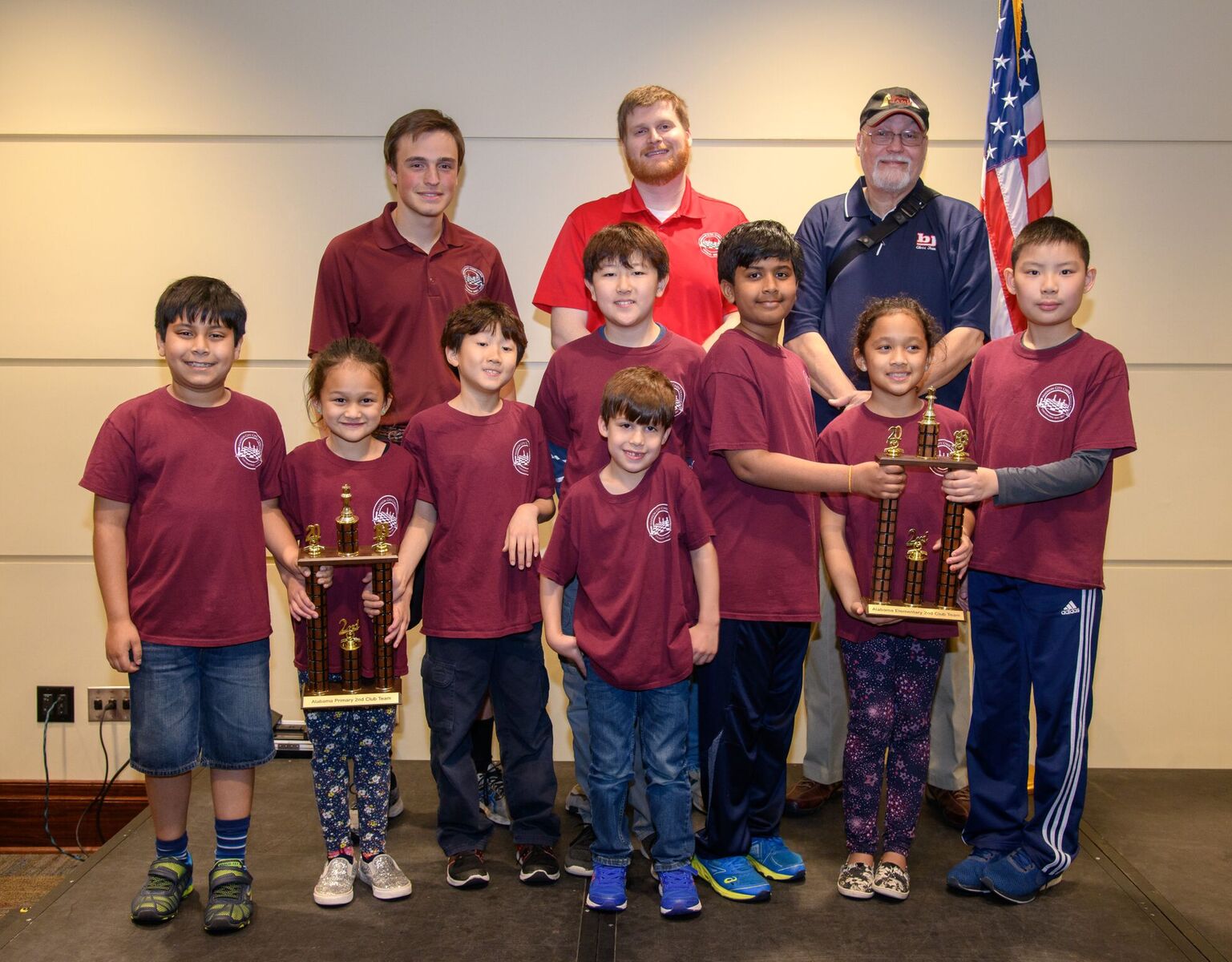 The Club division of the State Scholastic Chess Championship allows students from different schools who are members of the same chess club to compete with other clubs. Our Madison City Chess League club teams came in 2nd in both the Primary Club and Elementary Club sections. The MCCL Primary Club team was comprised of Aadi Saxena (Heritage), Samsara Rajbhandari (Horizon), Joseph Park (Columbia), and Blaise Bruni (Rainbow). The MCCL Elementary Club team was comprised of JAndrew Park (Columbia), Pulak Agarwalla (Decatur), Nirvana Rajbhandari (Horizon), and Steven Pan (Madison Elem).
MCCL also had a Junior High Club team of Mohak Agarwalla (Decatur), Alex Edwards (BJ) and Kennedy Gore (DMS) that narrowly missed out on a team award with only three players competing!
INDIVIDUAL COMPETITION
Students competed in multiple categories Sunday March 25th, but the champions were declared in four sections: Primary (K-3), Elementary (K-6), Junior High (K-9), and Open (K-12). Numerous Madison students won awards. MCCL coach Jonathan Rasberry produced this tournament report from the Individual competition.
The most dominant display of the strength of our programs was evident in the Primary section where the top four students receiving awards were Madison students. Pictured below (R to L): Aadi Saxena (1st), Xavier Bruni (2nd), Landon Drummond (3rd) and Andrew Nguyen (4th). Aadi ended the day with a perfect score of 5 points, and Xavier, Landon and Andrew each had 4 points with their only loss being to another Madison student! The ACF only gives out five individual trophies. Narrowly missing out on an award and scoring 3 points were: Holland Lang, Blaise Bruni, and Samsara Rajbhandari. First grader Blaise had one of the most amazing performances defeating two older competitors rated 400-500 points higher than he was rated.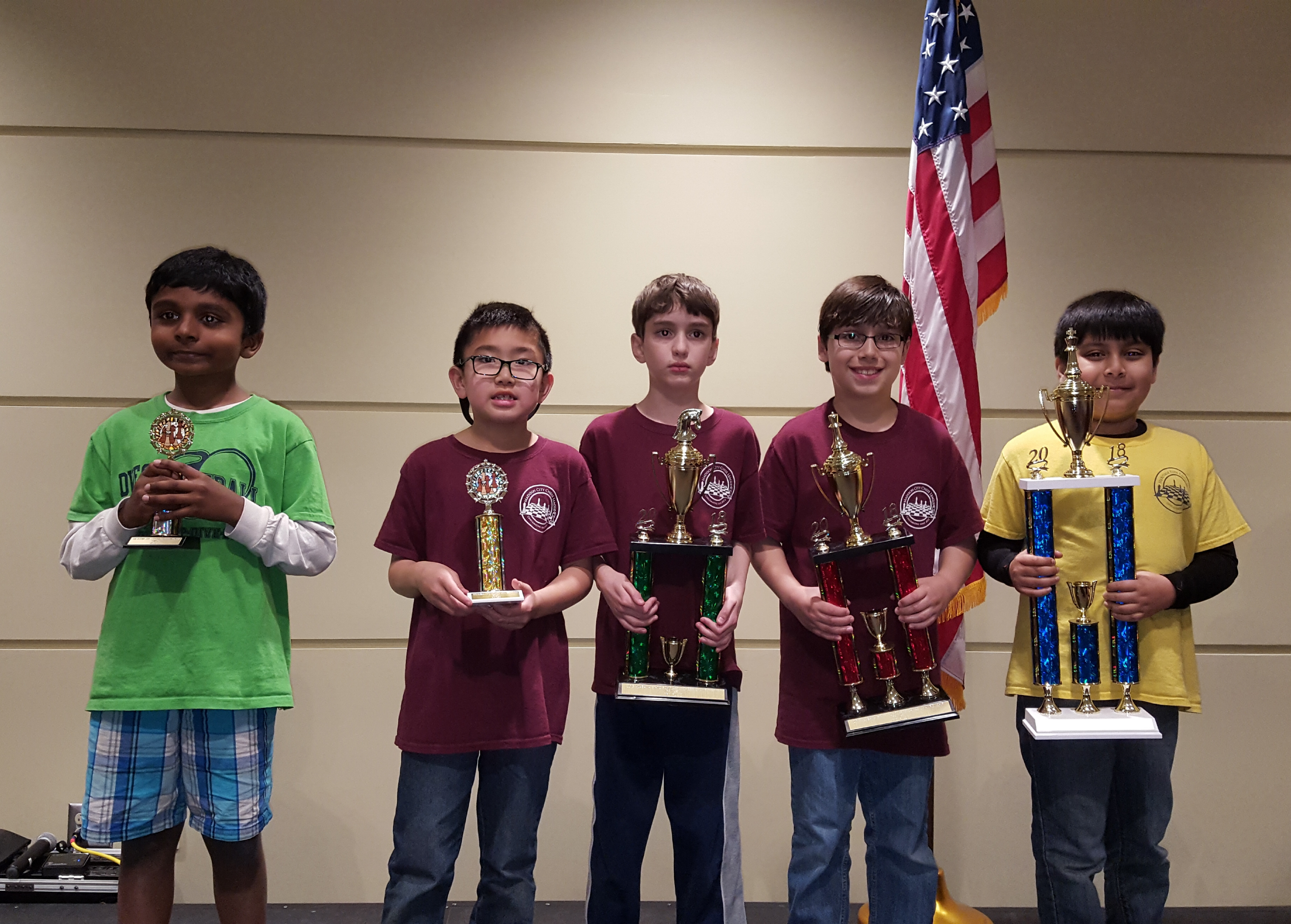 The Elementary section saw a lot of Madison kids playing each other throughout the day. At the end, fifth grader Geon Park won the championship with 4.5 points. Geon is pictured below, far right, holding the blue 1st place trophy. Geon becomes the first Madison student to ever win the Elementary section outright at the State championship. Last year, Rainbow 6th grader Constance Wang tied for first to be declared co-champion. Two years ago Geon won the Primary Championship as a third grader. In 2007 Elora Holland won the Primary Individual championship. In 2004 & 2005 Dennis Dergunov won the Primary championship. Elora and Dennis attended Horizon Elementary.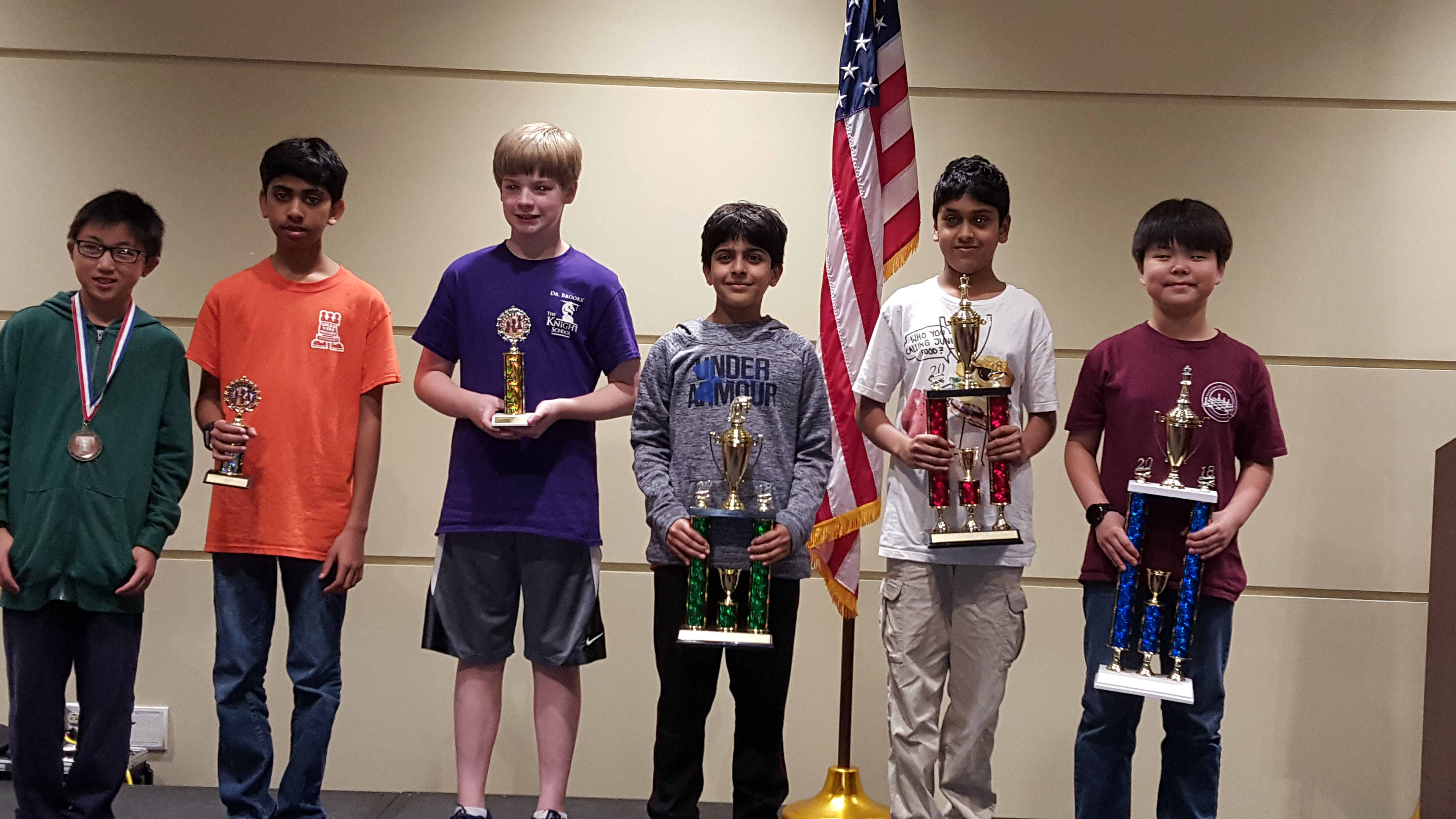 The fifth place trophy and tie break medal were won by students who scored 3.5 points. Just narrowly missing out on an award but scoring 3 points at the tournament were: Artem Starenki, Steven Pan, and Zachary Calinsky from Madison.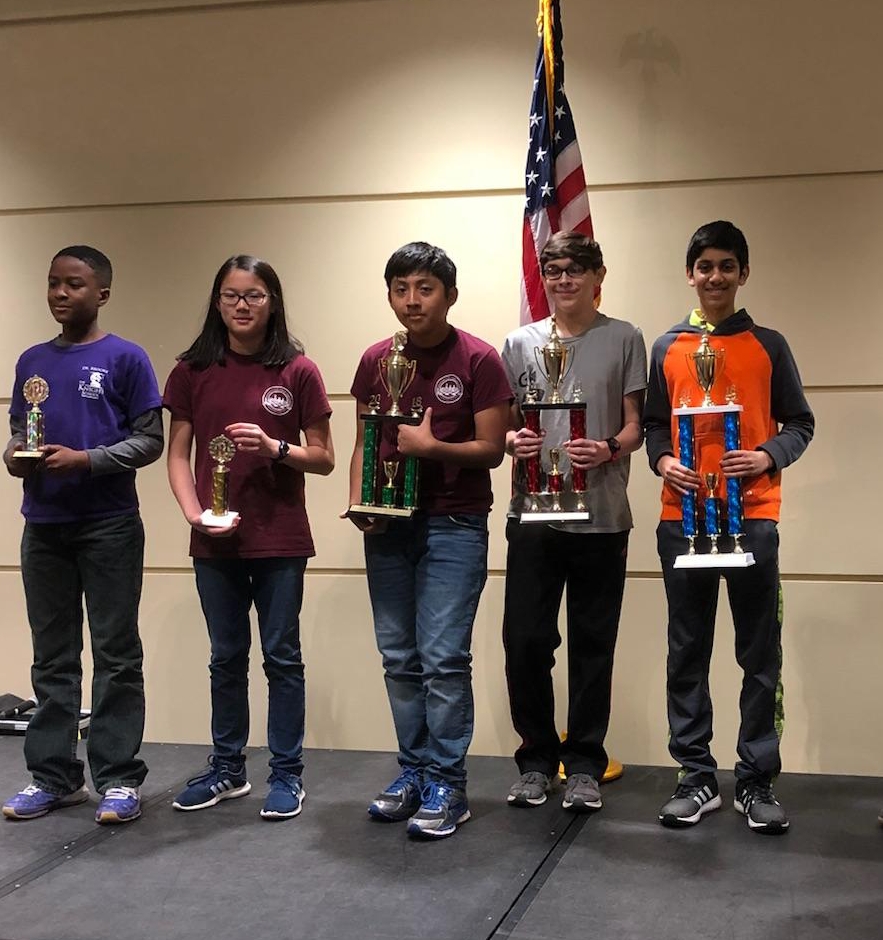 The Junior High Section seemed sure to crown an MCCL champion as the top three rated students in the section were Will Fox, Mohak Agarwalla and Om Badhe. At the end of the day Liberty Middle school eighth grader Om Badhe achieved a perfect score of four points and was declared champion after defeating both Mohak and Will in head-to-head matchups. These three are such good competitors that on any given day one could only guess who would win a game, but on March 25th Om won every game he had to win. Om became the first Madison student to win the Jr High championship outright. In 2013 a Madison eighth grader named Alex Lay tied for first to be declared co-champion in the Jr High section. Also winning individual trophies were Victor Lundy (3rd) and Constance Wang (4th), both from Discovery Middle School.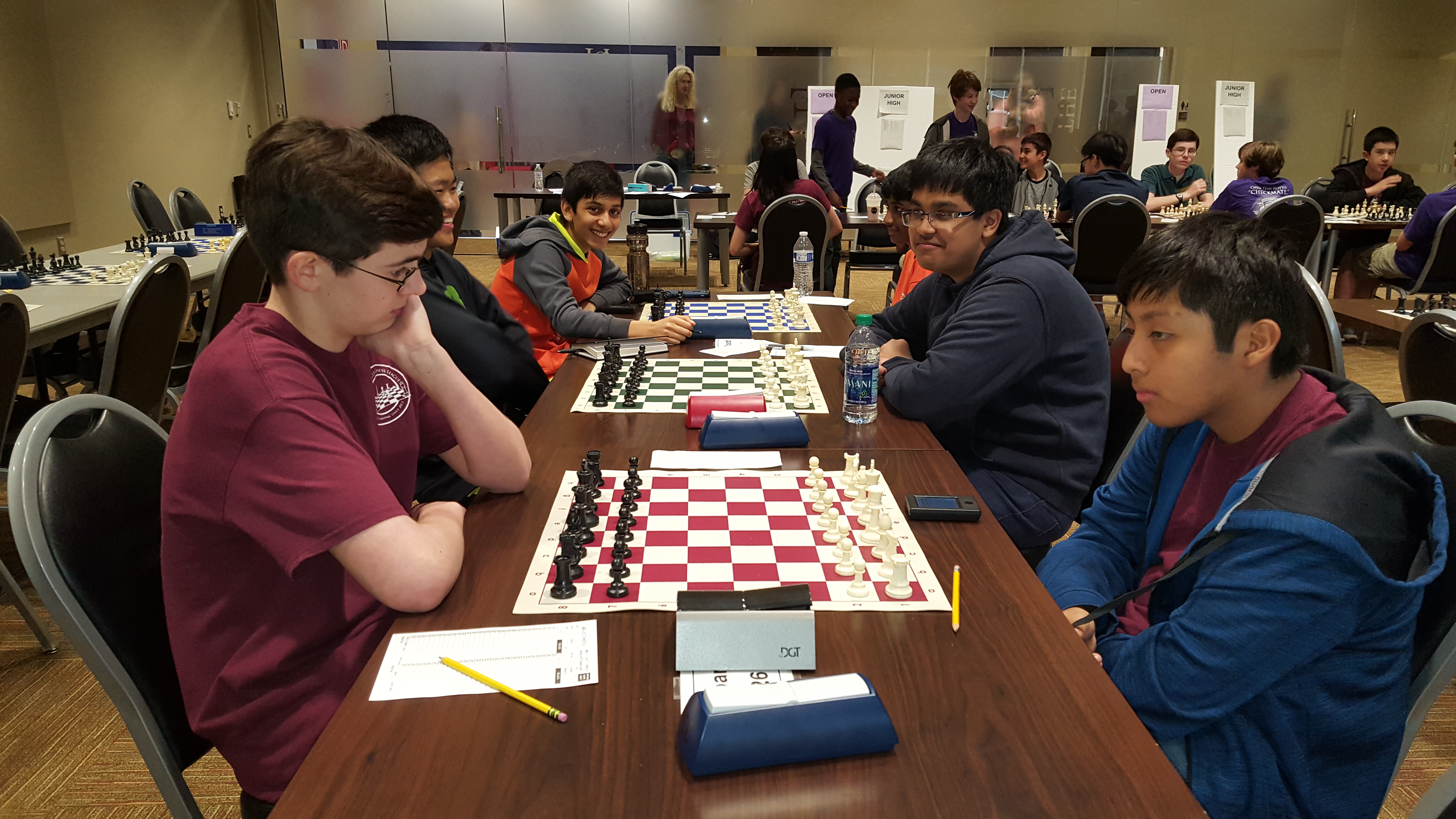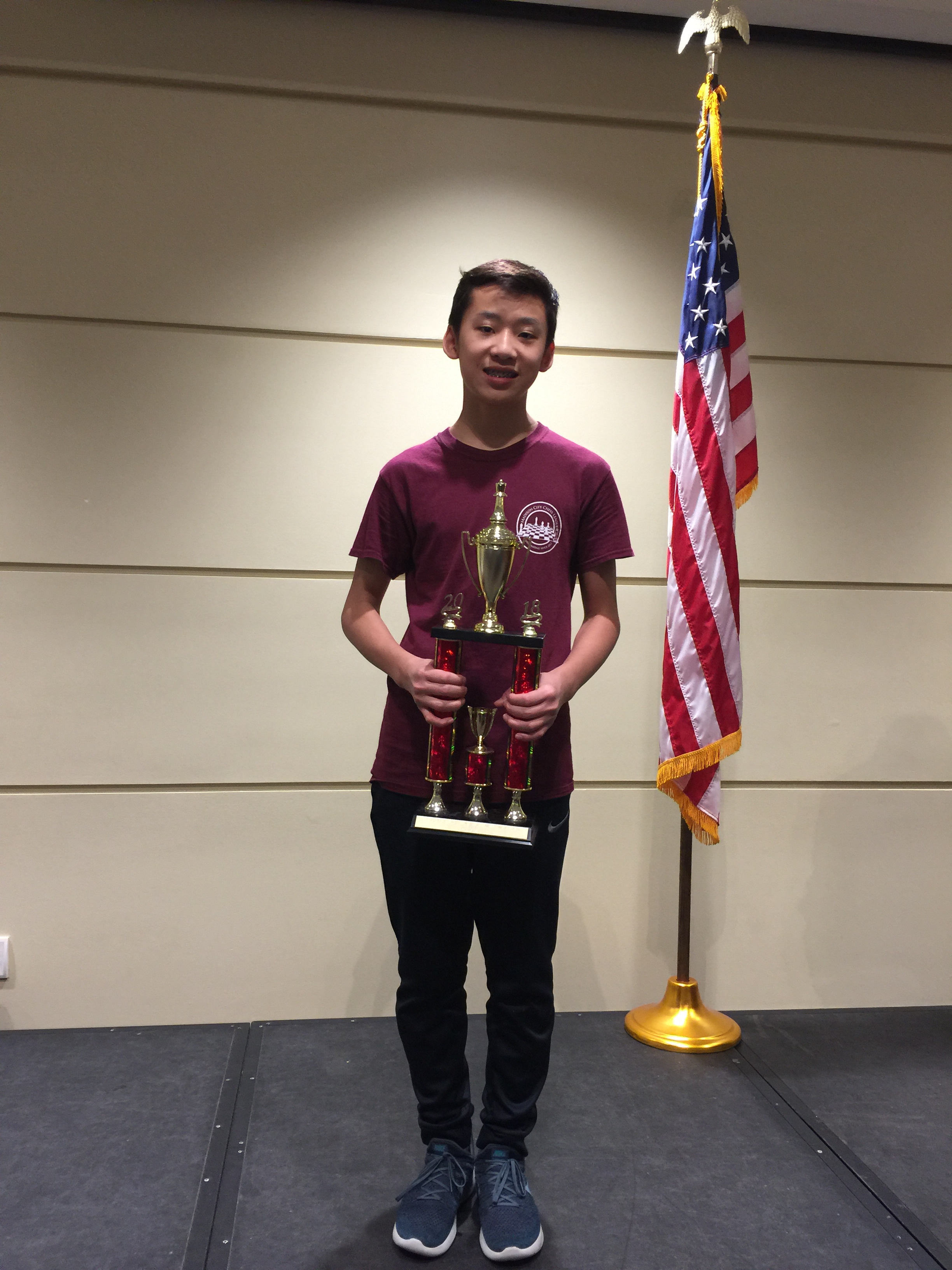 Bob Jones freshman Josh Lin received the 2nd place trophy for finishing in second place among Alabama students competing in the Open Section. A number of out-of-state residents competed as well as younger students playing up in the Open Section.