A Great Time To Be a Girl Playing Chess
February 10th, 10:59AM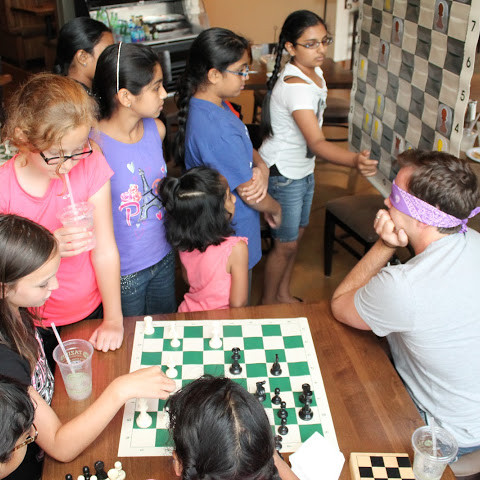 2018 is great year for girls to be playing chess, particularly in Madison! Not only do we continue to see girls competing and winning awards at local chess tournaments, but we are seeing the benefits of investing in girls chess in our middle school where half the members of the Discovery Middle School chess team are girls.

This year the Madison City Chess League is announcing a new initiative--Girls Chess Club--that launches on February 27th with a Movie Night and Pajama party. This event is limited to the first 20 girls who register. We will watch Queen of Katwe, eat pizza, and just hang out. We will also welcome girls to submit designs for a Girls Chess Club T-shirt which we will select at our first meeting. Girls Chess Club was created to give our female chess players an opportunity to enjoy each other for fun events, and to help them prepare for the First All Girls State Chess Championship that will occur on April 28th at Bob Jones High School. Girls who have registered for the All Girls State Chess Championship will receive a prize at our first Girls Chess Club meeting on February 27th.
Girls Chess Club Schedule
Movie Night and Pajama Party - 2/27 (Tues)

Join us for our first meeting at Rainbow Elementary on Tuesday, Feb. 27th from 5-7 p.m. Wear your PJs and we will watch Queen of Katwe.

Cost $5

for pizza. We will also vote on the best logo for our Girls Chess Club T-shirt.

Must RSVP here. Limit first 20 girls.

Bowling Night - 3/28 (Wed)

Meet at Stars & Strikes at 930 Old Monrovia Rd in Huntsville at 6 pm.

Cost: 99 cent night + shoe rental

. Bring extra money if you want to eat or need to rent shoes.

Getting Ready for State - 4/17 (Tues)

We will meet at Rainbow Elementary in the Chess Classroom to practice for All Girls State on Tuesday April 17th from 5:00-6:30 pm. We will have a brief lesson and practice over the board. Must be registered for All Girls State to participate.
One goal we have in Madison for hosting the All Girls State Chess Championship is to see three girls register per school so that they have the best opportunity to compete for a team award. We have enough girls playing competitively at each school to have at least three compete in the K-3, K-6, and K-12 sections of this event. The All Girls State Chess Championship is both an individual and team event, so everyone will register individually, but indicate which school they attend.
The Bob Jones Chess Club has selected hosting the first All Girls State Chess Championship as its service project this year in hopes of encouraging more girls to play chess and develop their skills. Members of the chess club will be planning for the event and seeking sponsors to help provide souvenirs and prizes for all of the girls who compete in this historic event. Bob Jones Chess Club members will also be promoting this event to all area girls encouraging them to participate in their respective age groups. This will be a rated chess tournament, so both United States Chess Federation and Alabama Chess Federation memberships will be required as of April 2018.
Questions about Girls Chess Club or the All Girls State Chess Championship can be directed to Ranae Bartlett at mccl.director@gmail.com.