FM Mike Klein joins MCCL for 10th Anniversary Dinner
August 24th, 9:41PM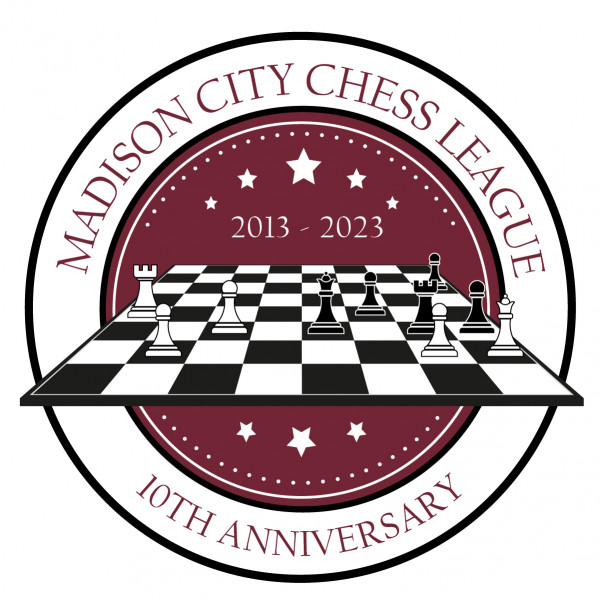 Sunday evening, members and supporters gathered at the Jackson Center to celebrate Madison City Chess League's 10th anniversary. MCCL President Ranae Bartlett started MCCL in 2013 after volunteering with the Rainbow Elementary chess club. Over the last decade, the League has supported chess programs in Madison City Schools, organized over eighty chess tournaments, conducted summer chess camps, and sponsored Monday Night Chess at the Madison Library.
Ms. Bartlett noted how much she enjoyed watching Madison students mature, graduate from high school, and go to college, knowing that she got to know them when they were learning to play chess in elementary school.
Educator of the Year and Coach of the Year
Ms. Bartlett also took the opportunity to present two awards from the 2022-23 school year. She presented the Educator of the Year award to Beth Bero, who just retired after many years at Horizon Elementary. "When I first started volunteering as a chess parent at Rainbow Elementary, I looked to Beth Bero to learn how it was done in Madison. Horizon Elementary was the benchmark that we all strived to meet."
She also presented the Coach of the Year award to Sarah May, the coach of the Horizon Elementary chess team for the last three years. "Coach Sarah has not only been instrumental in the success of the Horizon chess team, but she also has served as our head coach for the All Girls National Chess Championship."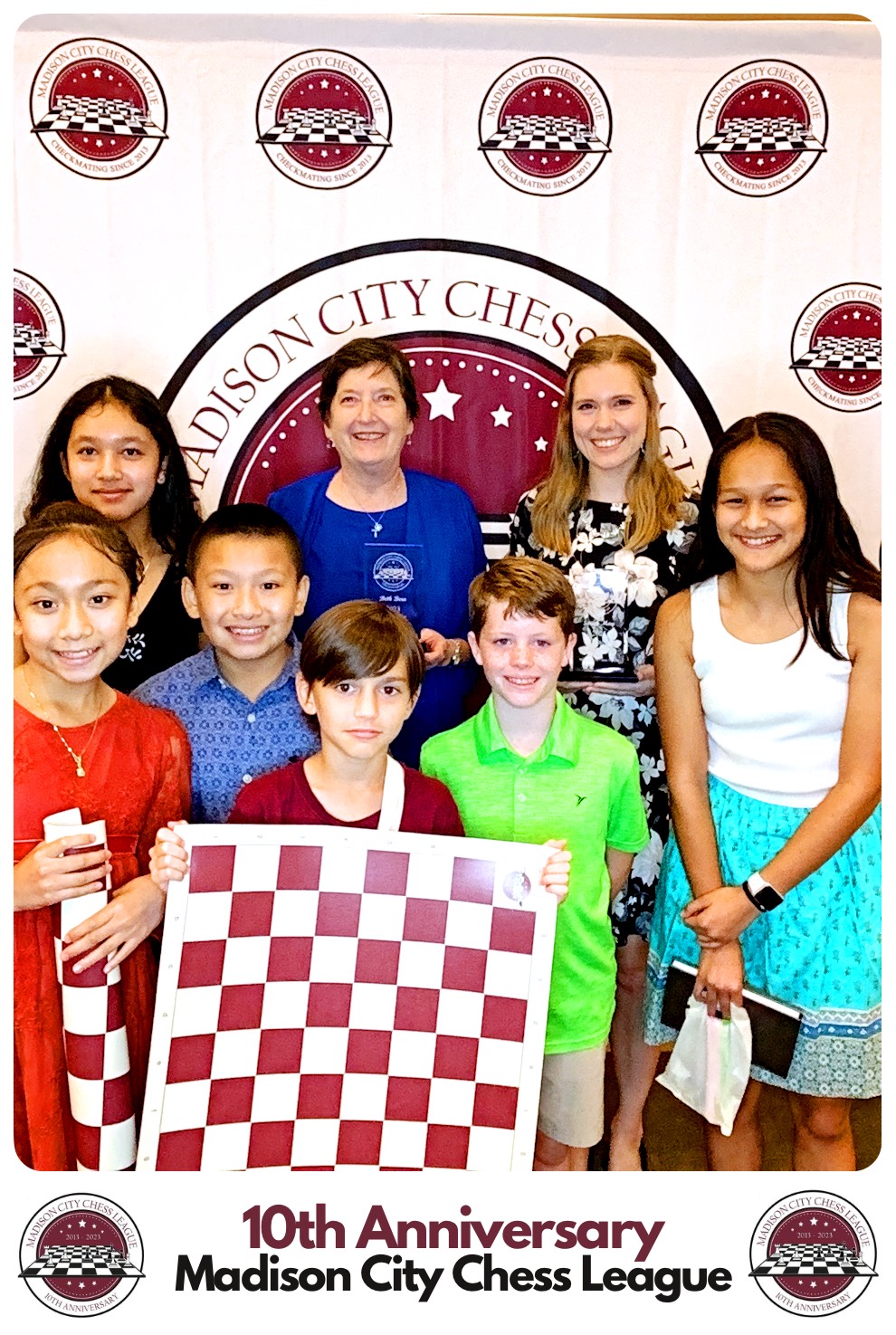 Thank you to our sponsors!
Ms. Bartlett also thanked the sponsors of the event and of Madison City Chess League. She specifically thanked the presenting sponsor Summit 7 Systems and the keynote speaker sponsor Signalink, Inc. Business owners Scott and Amy Edwards (Summit 7 Systems) and Steve and Alice Lessmann (Signalink) were chess parents and supporters of MCCL from the very beginning. Ranae thanked the photo booth sponsor Project XYZ, the chess prize sponsor House of Staunton, the program sponsor Hexagon, and table sponsors National Space Club, Al Sullivan, STI Electronics, Breland Companies, Johnson Pools, and Madison Chamber of Commerce. Another sponsor recognized for their continued support was Systems Products and Solutions (SPS) for being the first and continuing sponsor of the MCCL City Chess Championship.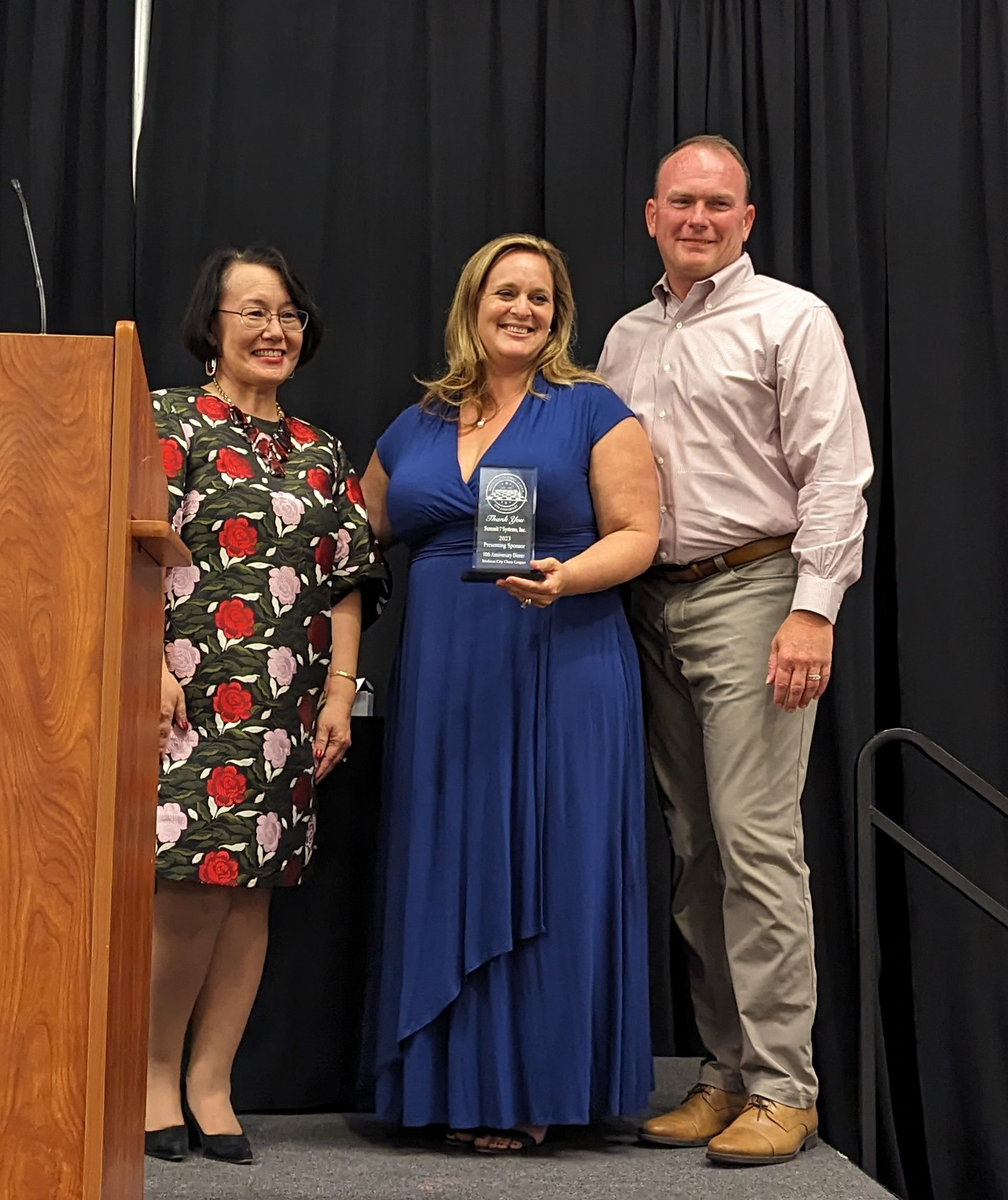 Keynote Speaker: Mike Klein
Fide Master Mike Klein, also known as Fun Master Mike on ChessKid, was the keynote speaker for the event. FM Klein spoke about the history of chess in his life and the benefits of chess, especially to its younger students.
"I can think of no other game or sport where you are 100% on your own, with no coach, no cheering parent, no caddy, and for such a long period of time, where absolutely every decision is critical. We often 'sell' chess that it teaches spatial reasoning and such, but I would argue that self-reliance is the biggest character trait enhanced by the game. And the Madison City Chess League has been giving that unique gift to so many in the community."
Mike provided a couple of examples from his background as a chess player and coach. He told a very entertaining story about his efforts not to get in trouble during a high school field trip, and a story of sportsmanship among elementary school teammates and competitors. "Every day we're going to be presented with challenges, puzzles, and unexpected problems. And I submit that chess players, especially those who have committed a serious amount of time to the game, approach these decisions with more creativity, more calmness, and better risk analysis functions."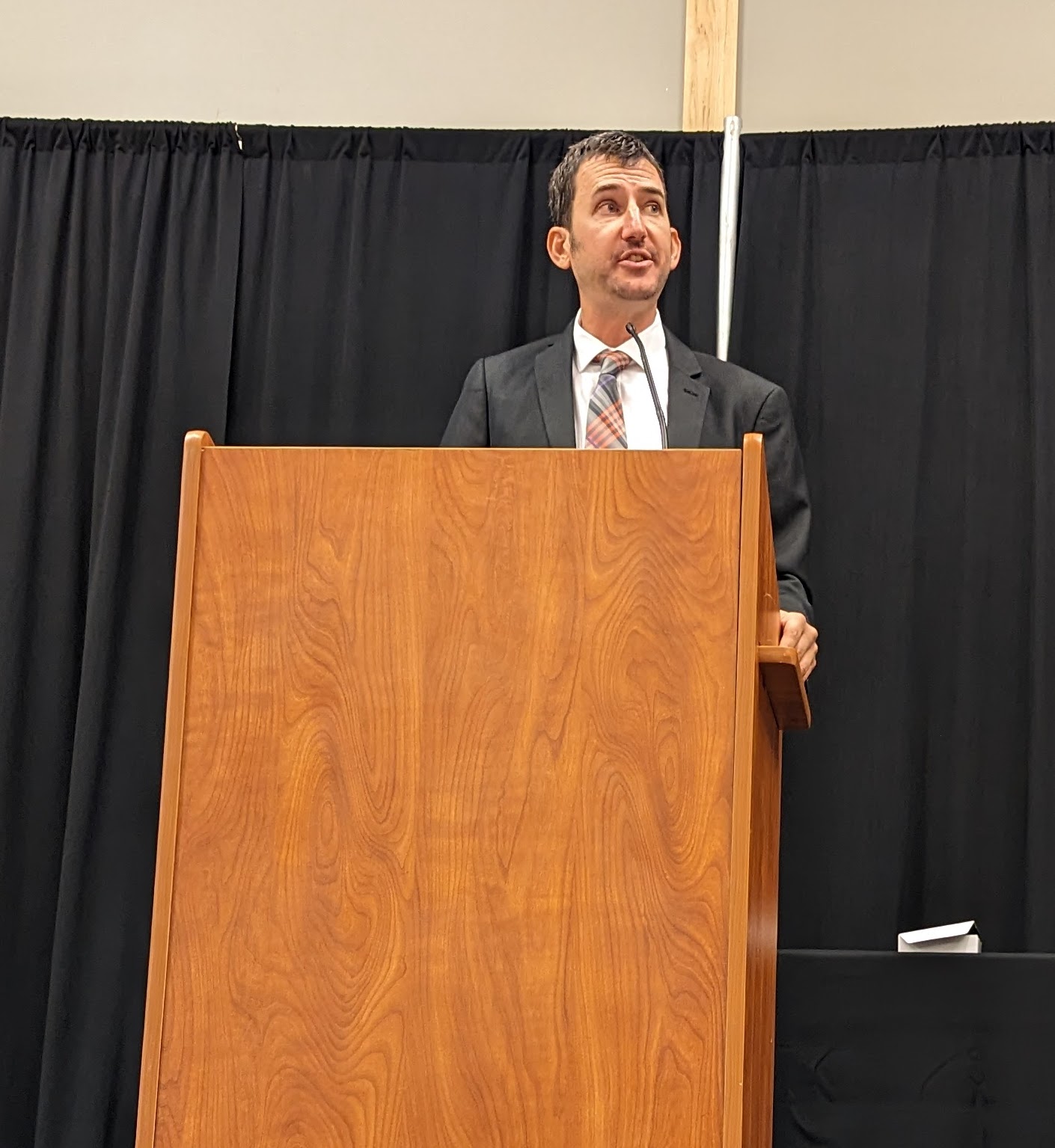 Mike spoke about the growth of Madison City Chess League. He has been at ChessKid for ten years, making his tenure at the chess website coincide almost exactly with the life of MCCL. He said he had watched the evolution of the league through international online matches, the pandemic, and many championships. He came to Madison in 2017 to teach at an MCCL chess camp and has gotten to know many of our chess kids over the years. He shared these thoughts to close his speech:
"Through all these marquee events, and all the smaller weekly ones in coffee shops, classrooms, libraries, and parks, the Madison City Chess League has given tens of thousands of kids their own ability to think analytically and build up strong self-reliance. There will be therefore, millions and billions of better decisions made in their later lives, both large and small. They probably won't draw a through-line between their chess skills and their daily decisions, and maybe we don't want them to, as I kind of like the idea that we hoodwinked them by teaching them life skills when we told them they were learning to play a game."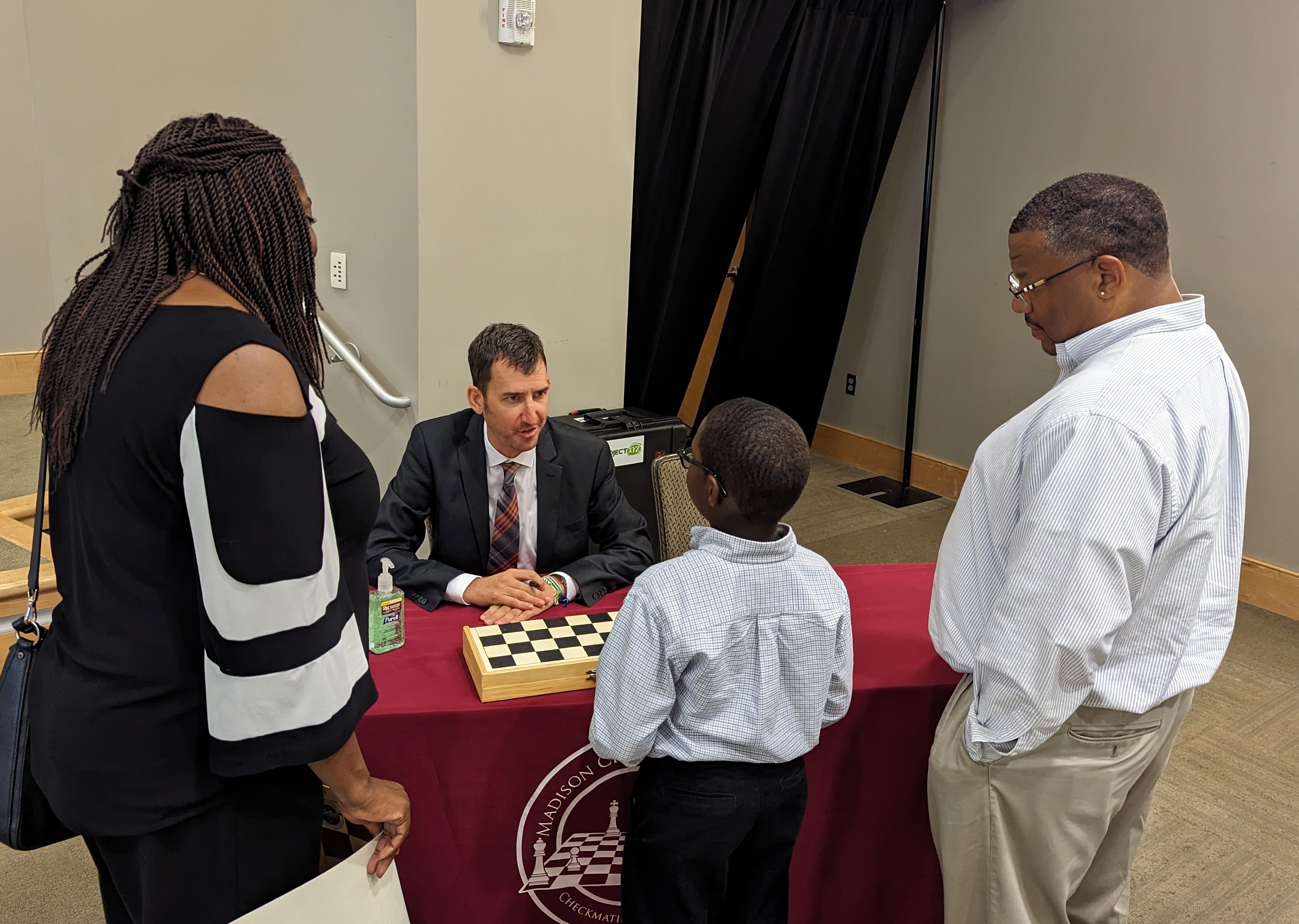 We appreciate Mike making the trip to Madison to join us for this celebration.
Many of the attendees got to speak to FM Klein and get his autograph. If you would like to see more of Fun Master Mike, you can find his work on ChessKid, https://www.chesskid.com, and on Youtube, https://www.youtube.com/@ChessKidOfficial. He is also on Cameo and you can request one here, https://www.cameo.com/funmastermike
When attendees gathered for the dinner, they were able to take pictures at the photo booth, meet Fun Master Mike, play chess on a giant chess set, play one-minute games with Coach Joel Friedman, or challenge each other to see who could set up a chess board the fastest. Students Aaron Chen and Sophia Jerez were the only ones to defeat Coach Joel. Ben Lessmann won the prize of setting up a chess board the fastest.