MCCL Annual Dinner Honors Coach and Educator of the Year
May 27th, 8:59PM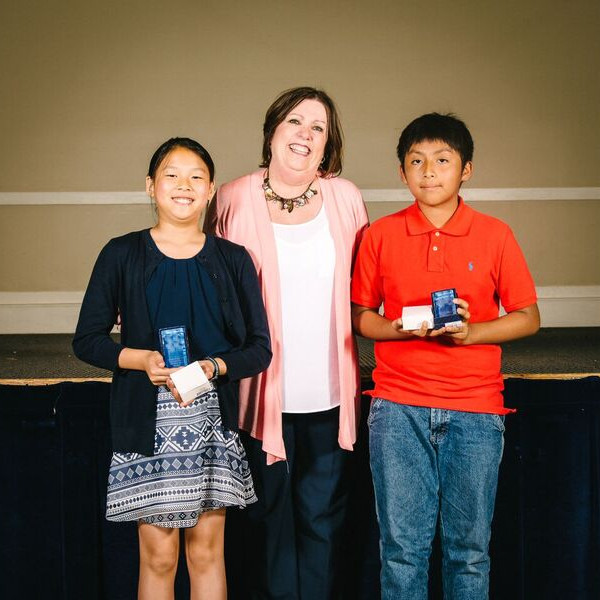 The Madison City Chess League held its first city-wide Annual Dinner to celebrate the many accomplishments of our kids during the year. A true celebration of chess held at Asbury UMC Fellowship Hall welcomed over 160 individuals. The House of Staunton donated mugs, water bottles, cups, hats, frisbees,and dog tags with the Super Nationals logo so all attendees could come home with a party favor. We used these items along with all the individual and team trophies as our table centerpieces to make for a colorful display.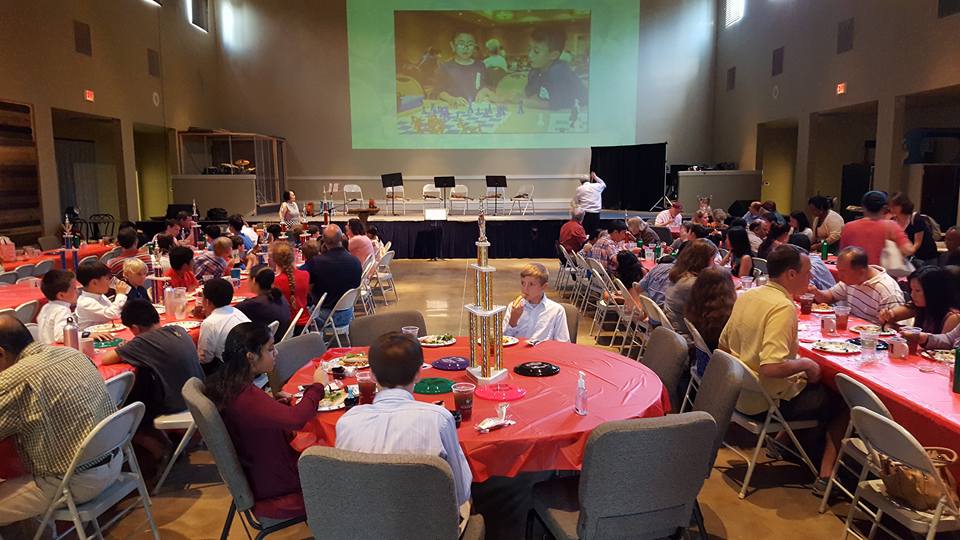 The festivities began with Pachelbel's Canon in D performed by chess students Will Fox, Constance Wang, Zachary Calinsky, Geon Park, Amy Park and Caroline Wang.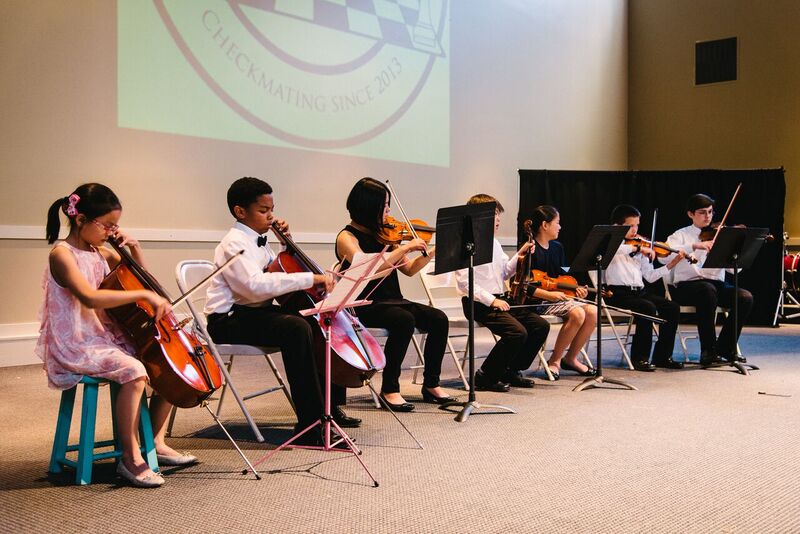 Madison City Chess League Executive Director Ranae Bartlett recognized award winning students at the City, State, and National K12 chess championships. Ms. Bartlett also recognized Bill Nash for his service to the State of Alabama in conducting the State Chess Championship in 2016 and the State Scholastic Chess Championship in the spring of 2017. Coach Will Stevenson (pictured below) was recognized for his outstanding success as the chess coach for the All Star East Chess Club. The All Star Chess Club is a program of the Madison City Chess League that allows 2nd and 3rd grade students who are nominated by their coaches to experience an additional hour of chess instruction each week at one of two locations. Finally, volunteer photographer Scott Wilhelm also received recognition for the countless hours he has spent capturing favorite moments from chess tournaments and special events.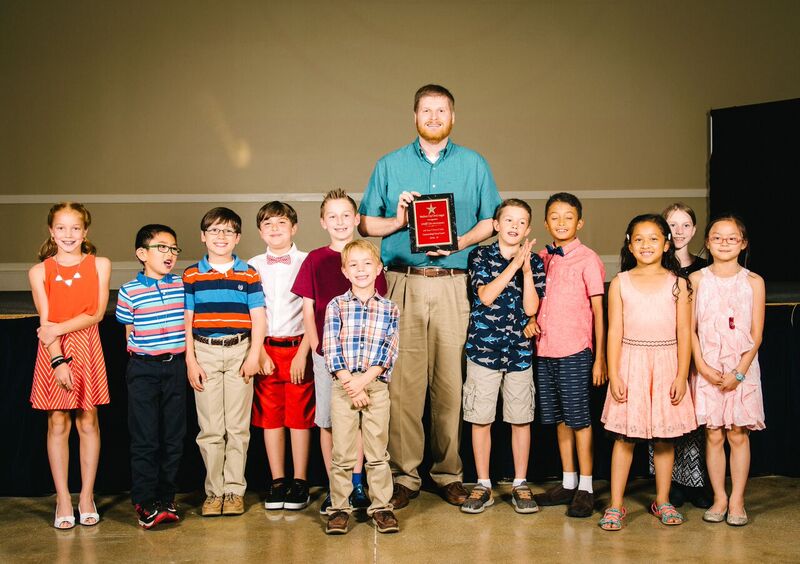 Coach of the Year - Ed Mullin
Ed Mullin volunteers as a chess coach for two elementary schools: Madison and West Madison Elemnetary. He also is coach for the All Star West Chess Club that meets weekly on Tuesdays at Madison Elementary. Coach Ed can be seen at every local, state, and national tournament helping our kids city-wide review their games. He even sponsors kids so they can compete in local tournaments. Coach Ed also volunteers for the MCCL program Learn to Play Chess Night where kids in the community are able to learn how to play chess for free. His love and support of our students as they learn the game of chess is an example of servant-leadership. We cannot say thank you enough to Coach Ed and award him the 2017 MCCL Coach of the Year award.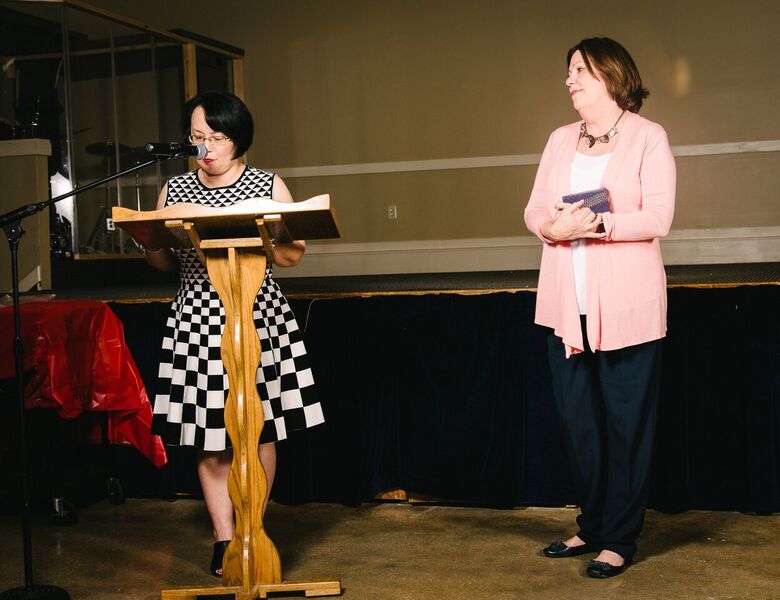 Educator of the Year - Dorinda White
Dorinda White has been Principal of Rainbow Elementary since 2007. Under her leadership and support, students at Rainbow have won the State Elementary team championship 4 years in a row. Mrs. White's support of the competition chess program is evidenced by her holding a December chess puzzle contest for all students; generosity in hosting numerous chess tournaments, special practices, and summer chess camp; hosting the first Weather Day grade-level chess championship for Rainbow students; and allowing our youngest students in K-2nd grade to learn how to play chess during the instructional day and to join the competition chess team. Mrs. White has recognized the educational value of teaching kids chess and she has taken that recognition to the next level by creating an outdoor chess classroom to inspire kids to learn to play chess and supporting National Hour of Chess in all grade levels. it is with great pleasure that the Madison City Chess League honors Dorinda White with its first Educator of the Year Award.
Super Nationals VI Award Winners Recognized


MCCL recognized all individual and team award winners during the Super Nationals VI tournament held May 12-14th in Nashville. For a complete list of winners, see this article. We are so proud of the record number of 78 students who competed from Madison and the record number of 9 team awards and numerous individual awards.
MCCL also recognized the following students for their success in defeating or drawing in games at Super Nationals against opponents who were rated hundreds of points higher: Om Badhe, Will Fox, Hayden Billmann, Ryan Shurtz, and Harsha Matta.
School Chess Team Awards
Madison City Schools Chess Team Sponsors and Coaches were invited to attend Annual Dinner and distribute awards. Some opted to hold end of year celebrations at individual schools. Four schools chose to give awards during Annual Dinner: Bob Jones HS, Discovery Middle, Liberty Middle, and Rainbow Elementary.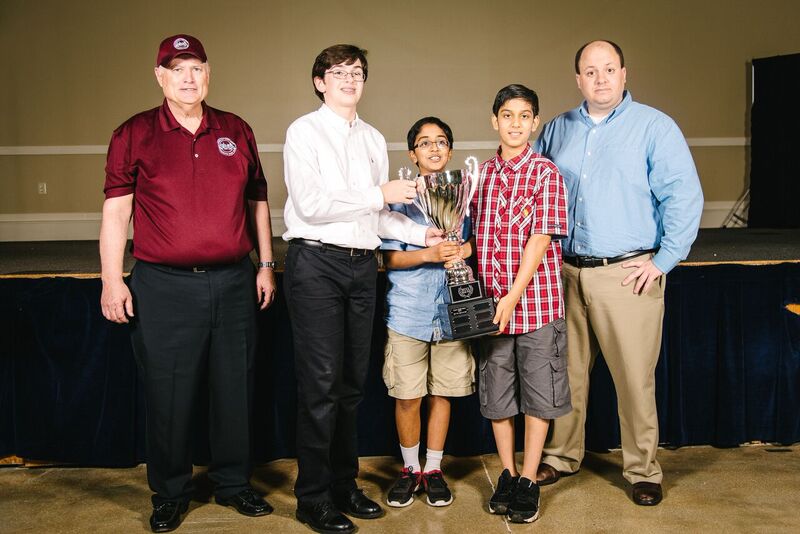 Liberty Middle School presented its Most Improved award to Justin Diehl. Receiving the LMS ChessKid award was Sohan Mynampally. The Liberty Middle School 4-person team of Om Badhe, Will Fox, Sohan Mynampally, and LJ Saurman also received the MCCL Team Cup, a traveling trophy that is awarded each year to the winner of the Varsity MCCL Team Championship.
Discovery Middle School recognized Hayden Billmann as Most Improved and presented Most Valuable Player Certificates to two students who achieved King Level 41 on ChessKid.com: Maanasi Limaye and Thomas Nguyen.
Bob Jones High School awarded two students with Most Improved certificates for their increased USCF ratings over the course of the 2016-17 school year: Grace Billmann and Hugh Mitchell. Winning the Most Valuable Player certificate was William Spanier who also achieved King Level 41 on ChessKid.com.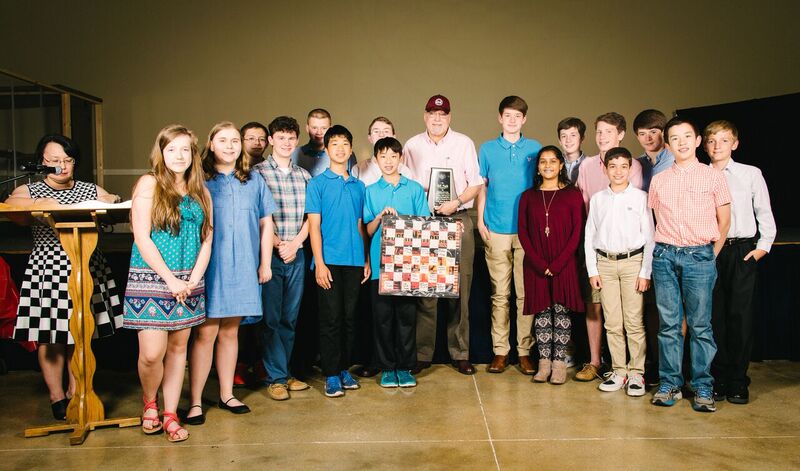 Rainbow Elementary recognized its 6th graders who served their last year as chess team members at Rainbow: Ethan Kueck, Jonathan Yang, Amelia Dobbs, Kennedy Gore, Victor Lundy, Ryan Shurtz, and Constance Wang. Constance Wang and Victor Lundy were awarded Top 6th grade student crystal awards for the exemplary chess skills, academic standing, and voluntarism in teaching others how to play chess.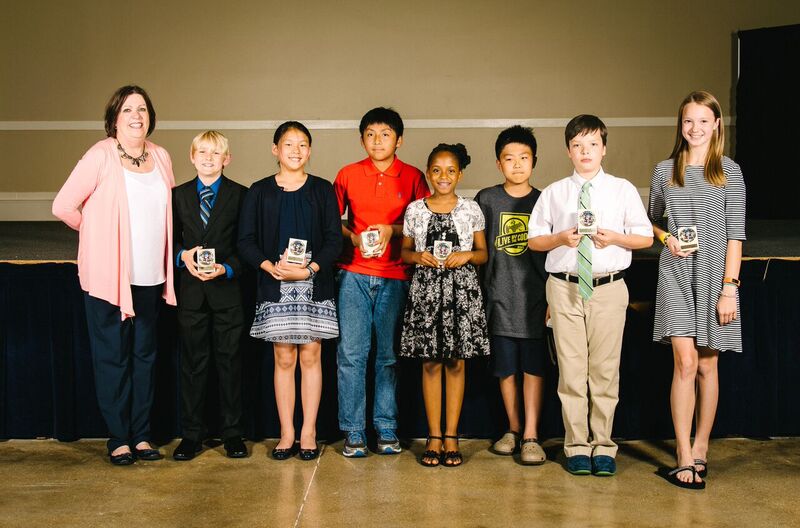 Rainbow also presented special awards and recognition to the following students in the following categories:
MCCL 1000 Club: Ryan Shurtz, who achieved a rating over 1000 after Super Nationals.
Most Valuable Player: Karsten Wallace who achieved King Level 41 and solved the most puzzles (over 2000!) on Chesskid.com.
Most Improved: Rachael Ehrman and Artem Starenki.
Rookie of the Year: Marek Fries and Owen Lang.
I Can't Believe I'm Just a 1st Grader Award: Holland Lang.
I Can't Believe I'm Just a Kindergartner Award: Noah Hsu.