Summer Chess Events Abound!
June 3rd, 9:33AM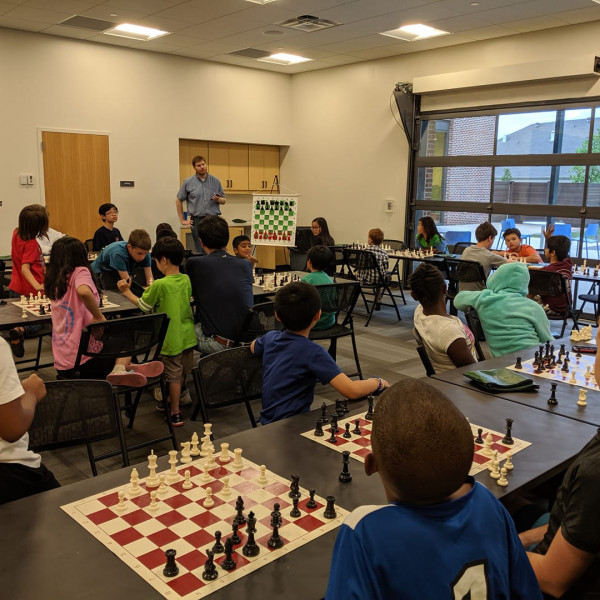 The Madison City Chess League is excited to return to over-the-board chess this summer and resume its traditional activities. The kids are ready, and we welcome students in grades K-12 to join us for a full summer schedule of events.
Monday Night Chess Returns at Madison Library
When: Mondays at 6:00-7:30 p.m. beginning June 7th
Where: Madison Library, 142 Plaza Blvd, Madison, AL 35758
Who: Kids K-12th grade who know how to play chess are welcome. (If your child wants to learn to play chess, consider registering for Learn to Play Chess camp at Rainbow Elementary July 19-23).
Masks: Madison Library prefers everyone wear a mask, so we will ask everyone who attends Monday night events to wear a mask until that policy changes.
Girls Chess Club Events
We have a great combination of face-to-face and online events for our Girls Chess Club members.
Thursday June 10th - Girls Chess Night at Sweet Charlie's at 6 p.m.
Sunday June 13th - Girls Chess Club at Stovehouse at 2 p.m.
Sunday June 27th - All Girls Tournament on ChessKid.com at 2 p.m.
Sunday July 11th - Girls Chess Club at Cook Museum in Decatur at 2 p.m.
Sunday July 25th - All Girls Tournament on ChessKid.com at 2 p.m.
MCCL 2nd Saturday Online Tournaments on ChessKid
Starting on June 12th, MCCL will host online Saturday tournaments on ChessKid for all current members the 2nd Saturday of each month. Just another way to practice your chess playing skills! We will hold these tournaments at 2 p.m. for two sections: K-5 and K-12. Both sections will play 4 rounds; game 15 minutes per side with a 2 minute round break. We recommend you play in the lowest grade level you are eligible to play. Grade promotion occurs in August when school starts. Upcoming tournament dates:
June 12th at 2 p.m.
July 10th at 2 p.m.
August 14th at 2 p.m.
September 11th at 2 p.m.
October 9th at 2 p.m.
Join/Become a member: https://madisonchess.com/join