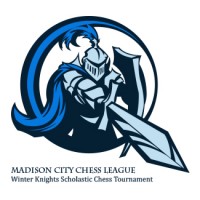 2024 Winter Knights - 1/13
Starts: Jan 13, 2024 @ 9:00 AM
Interested in competing? Check out the requirements and what's involved.
2024 Winter Knights Scholastic Chess Tournament

January 13, 2024
Winter Knights offers both Rated and Non-Rated sections. Rated players must register in their grade level section which closely aligns to the upcoming City Chess Grade-Level Championship in March. We are using a longer time control of 45 minutes for the Rated section to help our students prepare for National tournaments that use either a 90-minute or 120-minute time control. Be sure to renew your MCCL membership for 2024 in a separate order before you register for Winter Knights so you will receive $5 off your registration fee.
Tournament Details
Where: Columbia Elementary School, 667 Balch Road, Madison, AL 35758

When: January 13th, 2024, Players Meeting: 9:00 a.m.
Round Times: Saturday - Rated Sections: 9:15 - 11:00 - 1:00 - 3:00, Time Control - G/45;d5
Practice: Non-Rated Sections: 9:15 - 10:45 - 12:15 - 1:30 - 2:45, Time Control - G/30;d5
Memberships, Fees, And Deadlines
USCF membership is required for all rated sections, and must be obtained before registering for this tournament. USCF membership can be obtained online at https://new.uschess.org/join-us-chess.
Entry Fee: $20 for MCCL members in all sections. $25 for non-members. (All MCCL annual members must renew their memberships in January each year.)
Entry Deadline: Online entry by Wednesday, January 10, 2024.
NO ON-SITE REGISTRATION
Awards and Trophies
Rated: Individual Trophies for 1st, 2nd, and 3rd; Individual Medals for 4th, 5th, 6th and Top Female in each section.
Practice Tournament--K-3 Non-Rated: Individual Medals for 1st-6th and Top Female.
Registration
RATED SECTION
The Winter Knights tournament has six Rated sections which are similar to the MCCL City Chess Championship that will be a grade-level championship. Therefore, like the City Chess Championship, students must register in their grade level.
K-2nd

3rd-4th

5th-6th

7th-8th

9th-10th

11th-12th
NON-RATED SECTION

Winter Knights offers one Practice Tournament-- K-3 Non-Rated section for students who are new to competitive chess in grades K-3. You do not need a USCF membership to play in the Non-Rated section. Students in the Non-Rated section will play five rounds with a game time of 30 minutes with a five-second delay.